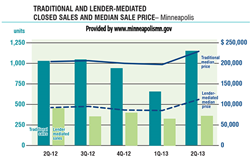 "The price of (Minneapolis) homes in traditional sales remains well above the national average." ~ St Thomas University
Minneapolis, Minnesota (PRWEB) October 02, 2013
A quarterly overview of housing trends in Minneapolis was released yesterday by the City of Minneapolis. The most significant signal of a return to a healthier housing market comes from the report that traditional home sales increased over 100 percent.
"Demand for traditional home listings in the Twin Cities metro continues to remain strong, and as home buyer activity surpasses the inventory levels we would like to have," says Jenna Thuening, owner of Home Destination. "It has been an amazing summer with the tremendous increase in home sales. We are thrilled to see transnational home seller activity hit a 10 year high."
Across the Minneapolis / St Paul metro area, overall home sales were up from the previous quarter by a generous 60 percent. The number of traditional home sales in Quarter 1 was 5,595; while traditional home sales jumped impressively to 11,307 by the end of Quarter 2.
Here is how additional Minneapolis housing trends detail out:

Lender-mediated home sales dropped near 3.2 percent.
Prices for traditional home sales increased 9.6 % and 9.3 percent for lender-mediated sales.
Overall, the number of sales of housing units increased 50% over Q1. The uptick in traditional home sales is 79.9% and lender-mediated sales are up 3.9%.
Average prices for the quarter increased for both traditional sales and lender-mediated sales.
The median price of Minneapolis traditional home sales arrived at $225,000, coming in slightly ahead of the region's median price of $224,000.
Median sale prices increased for traditional as well as for lender-mediated sales: 6.4 percent for traditional sales and 19.1 percent for lender-mediated sales.
This quarter lender mediated sales impacted by Minnesota foreclosed homes comprised 24 percent of all Minneapolis home sales, down from the larger slice of 32 percent of sales in the Q2 of 2012.
In accord with the City of Minneapolis report, Wells Fargo's special commentary released August 26 stated: "A wave of new construction is coming on line later this year and, when combined with an improving single-family market, should take some of the steam out of the apartment boom." After the sharp increase in apartment housing or multifamily housing demands, single-family traditional home sales are returning to center stage.
Minneapolis Housing Development Indicators in the City of Minneapolis Report Include:
1) 658 new construction residential units were permitted this quarter, most of them rental units in multifamily buildings, although the 33 single-family home permits issued were the most for a quarter since 2007.
2) The city of Minneapolis gave out 28 percent more permits for multifamily units this quarter than last quarter, and over four times the number of building permits issued in the same quarter of 2012.
3) Out of the entire Twin Cities metro, Minneapolis accounted for 75 percent of the permitted multiple family home units.
The thirty-three new single-family homes permitted this quarter had estimated construction costs ranging from $194,000 to $918,000, with a median of $335,000. The average newly constructed single-family home cost in the city dropped by 5.9 percent this quarter in comparison with last quarter, and increased 16.1 percent compared with the same quarter in 2012. Showing the same pattern, in the metro area permitted work decreased in value by 2.7 percent over the previous quarter and increased 1.9 percent compared with the same quarter last year.
"Reports of twenty-eight residential and commercial housing projects valued at least $1 million gaining permits this quarter totally $318.5 million is quite impressive," adds Thuening. We anticipate the metro housing market to finish 2013 with solid and sustained gains.
Additionally, the Minneapolis Areas Association of Realtors announced that traditional homes sold in 62 days for 97.2 percent of original list price. That means that traditional home sales are selling faster and at a higher original list price over the same time period in 2012.
Minneapolis home sellers seeking the guidance of a skilled local Realtor, may reach Jenna Thuening at 612-396-7832. Home Destination specializes in selling Eden Prairie homes, Edina homes, Chaska homes, Lake Minnetonka homes, Minneapolis homes and more.