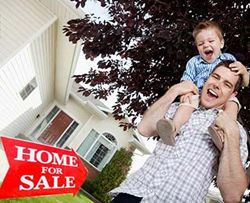 "With positive news found in nearly every aspect of the Twin Cities real estate market, interest rate hikes shouldn't harm the recovery if they are slight and gradual." ~ UST Real Estate Matters
Twin Cities, Minnesota (PRWEB) August 16, 2013
Traditional home sales activity is driving the Twin Cities housing market up hitting a near 10 year record, according to Tuesday's report from the Minneapolis Area Association of Realtors. Even with tight housing inventory new home listings were up 24.6 percent overall; however Twin Cities traditional seller activity topped news headlines at 55.7 percent – the biggest gain recorded in nearly ten years.
"Homes listed in immaculate condition and that are well-priced are selling after home sellers gain multiple offers within days - if not hours", says Jenna Thuening, owner of Home Destination. Bidding wars are common in communities close to the prime job and shopping location in the "Twin Cities home buyers are raising their offer quickly to ensure gaining the home they want. Homes in well-established neighborhoods near the luxury of parks, jobs, and the popular amenities of Twin Cities lakefront properties, continue to draw top bidders. Buyers, however, aren't willing to fight for every listing."
During July, home seller activity was remarkable strong with 5,700 closings in the 13-county metro area, almost 19-percent higher than last year and the most since June 2006, according to a monthly report from the Minneapolis Area Association of Realtors (MAAR). The average home purchase price reached close to $210,000, a nearly 17 percent increase compared over last year. Due to the number of home sales racing ahead of the number of new listings, housing inventory levels slipped 12.5 percent to a tally of 15,758 active Twin Cities real estate listings.
Twin Cities real estate statistics for the month of July 2013, according the the MAAR:

Home seller activity gained homeowners an average of 97.5 percent of their original list price, an increase from 95 percent in July of 2012.
The number of high sales caused the supply of Twin Cities housing inventory to drop 22.2 percent year over year, now recording a 3.6-month supply.
A combination of high demand and low supply drove the median home sale price upward to $208,757, a 17.2 percent uptick over July 2012.
July pending home sales were up 17.4%, bringing the number up from 4,585 a year ago to 5,385 sales in July 2013.
Showing how quickly homes are selling, the number of days until a sale is down -31.4%. In July 2012 it took the average home seller 105 days from listing their home till closing; this July that number stands at 72 days.
To gain multiple bids, home sellers need to price their home fairly and take care of routine upkeep and home improvement projects ahead of time. Bidding wars are more likely on houses listed in pristine condition and priced competitively. "With more home sellers choosing to list their homes for sale, the Twin Cities housing market is finding a better balance between housings supply and demand. Twin Cities 7 year high in home prices creates a great opportunity to move your home equity in one home to your next home of choice," adds Thuening.
"It appears that the inventory of homes for sale bottomed out in January 2013 at 12,919. It has increased every month since then, ending July at 15,671 homes for sale. Twin Cities traditional home sales show continued strength and a positive outlook for our continued housing recovery." states the University of St Thomas Real Estate Matters report.
The Shenehon Center for Real Estate at the University of St. Thomas' Opus College of Business announced a first ever Minneapolis St. Paul Residential Real Estate Index. The monthly index uses nine data elements to measure the strength and health of the residential housing market in the 13-county metro market.
"The St. Thomas index is the first of its kind that we are aware of. In recent years we knew that the price had dropped for traditional, undistressed home sales, but we also felt that traditional-sale prices had not dropped as sharply as the Case-Shiller Index would seem to indicate," stated Herb Tousley, director of real estate programs at St. Thomas
Twin Cities home sellers seeking a seasoned Realtor with strong local Twin Cities real estate experience find Home Destination a perfect choice. Call 612-396-7832 to enlist the guidance of Jenna Thuening.