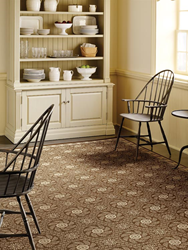 Cyrus is offering up to 75% off the retail price of gorgeous traditional rugs, both online and in-store at the massive showroom.
Minneapolis, Minnesota (PRWEB) June 18, 2014
At the beginning of the month, Cyrus Artisan Rugs was pleased to announce its special summer event- the traditional rug showcase for the month of June. The event is meant to celebrate the art and techniques behind weaving traditional rugs. Another exciting aspect of the traditional rug showcase at Cyrus is the month-long sale on traditional rugs.
Cyrus is offering up to 75% off the retail price of gorgeous traditional rugs, both online and in-store at the massive showroom. Cyrus Artisan Rugs is the largest showroom and purveyor of handwoven, high-end area rugs in Minnesota. The sale on traditional rugs will continue throughout June, so if you live in the Bloomington area, take advantage of the proximity to the impressive inventory of area rugs Cyrus has to offer and check the rugs out in person. Cyrus also has a newly remodeled online store with the same deals being offered. This exclusive summer sale offers surprisingly affordable prices on one-of-a-kind, high-quality traditional rugs. Cyrus also carries the internationally recognized rug designer and manufacturer, Tufenkian Rugs, and will offer special, reduced prices on Tufenkian traditional rugs in honor of their June showcase if interested parties inquire regarding the price. There are only thirteen days left to take advantage of this special sale and jump start your summer design and re-decorating plans. Cyrus launched the June traditional rugs showcase and summer sale to celebrate the hard work and talent that goes into the centuries-old craft of weaving rugs, the skilled designers who create these beautiful carpets that have continued to enrich interiors for ages, and the timeless designs that continue to inspire the design industry.
If traditional rugs are not your style, Cyrus Artisan Rugs also has a massive selection of contemporary, transitional, and tribal rugs to explore. Since the first of June, Cyrus has received new arrivals from top American designers, including Ralph Lauren Home collections, Safavieh Rugs, Thomas O'Brien designer rugs, and Martha Stewart rugs. Both the contemporary and transitional styles of Martha Stewart rugs are being offered with sale prices up to 75% off during June as well.
Cyrus Artisan Rugs
5115 American Blvd.
W. Bloomington, MN 55437
Phone: (952) 922-6000
Contributed by TRIXMEDIA : Creating Possibilities
Branding Firm based in Beverly Hills, California.