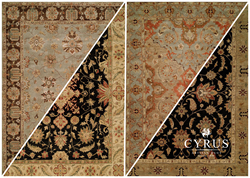 Minneapolis, Minnesota (PRWEB) June 05, 2014
Cyrus has kicked off their month long celebration for traditional carpets- the age-old weaving techniques, the top-quality craftsmanship, and the beauty in the heritage and tradition. In honor of this Traditional Rug Showcase and to kick off summer, the leading manufacturer and distributor of high-end, luxury handmade rugs in the midwest announces they will host an exclusive sale. Cyrus' selection of traditional rugs is so impressive and extensive, featuring some of the top brand names and internationally recognized designers, that all rug lovers should take note and explore what Cyrus has to offer. From world class rug manufacturer, importer, and designer Tufenkian Rugs, to internationally recognized Safavieh and design collaborations with icon Martha Stewart.
The sale will last from June 1st through June 30th and will offer 20% all available traditional rugs. The discount will appear at checkout when traditional rugs are purchased through Cyrus' newly remodeled website and online store. Now is a better time than ever to explore the variety of traditional, antique, and oriental rugs Cyrus has to offer during their special month long event.
Cyrus Artisan Carpets also announced there are plenty of new arrivals and happenings to look forward to starting in June and continuing all summer. New designer collaborations can be expected to expand Cyrus' impressive roster of featured designers. This includes new arrivals of Ralph Lauren designs for design powerhouse, Safavieh Rugs. During the month of June, Cyrus also stated that they will receive new shipments of designs and inventory from their partner, Tufenkian Rugs, to replenish their inventory. Tufenkian is highly regarded throughout the designer luxury rug industry, so Cyrus expects good things during their traditional rug event. The reason for the traditional rugs showcase is to appreciate the sheer complexity of the centuries-old craft of weaving rugs, the talented designers who create the beautiful pieces that have enriched interiors for ages, and the timeless designs that continue to inspire the traditional rugs industry.
Cyrus Rugs
5115 American Blvd.
W. Bloomington, MN 55437
Phone: (952) 922-6000
-Contributed by TRIXMEDIA: Creating Possibilities
Branding Firm based in Beverly Hills, California.