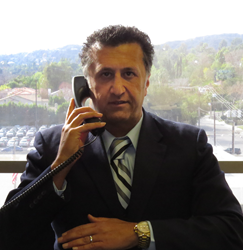 Los Angeles, CA (PRWEB) September 21, 2015
Traffic ticket lawyer, Mr. Ticket, now offers consultations for hit and run cases. Any person who hits the property of another person, or the person themselves, and leaves the scene of the crime, can be charged with a hit and run offense in the State of California. The consequences of leaving the scene of an offense can be expensive and can lead to jail time, depending on the severity of the offense. Those who are involved in a hit and run offense can now consult with our well-known attorney, Mr. Ticket.
Simone Wilson, a reporter for LA Weekly, writes, "About 20,000 hit-and-run crashes, from fender benders to multiple fatalities, are recorded by the Los Angeles Police Department each year." These cases can be considered either a misdemeanor or a felony offense, depending on the severity of the damage and if the incident resulted in personal injury or death. In the most serious cases, individuals may be charged with felony hit and run in Los Angeles.
A person can also face charges if he or she hits an animal and leaves the scene. Additional charges may occur if an individual involved in the accident does not call the police or stay to help the injured party if a person or animal was struck. While fines can range from $1,000 to $10,000 for a hit and run case, a person who commits this type of violation can also spend time in jail, gain negative points on their driver's license, or even lose their driver's license. A hit and run charge can also affect a person's ability to get insurance. If an individual has been involved in an accident and has left the scene of the crime, we can help minimize jail time and any fines.
About Amir Soleimanian, Hit and Run Lawyer Los Angeles
Amir Soleimanian has more than 10 years of experience in helping to minimize the impact of the consequences on an individual for those with traffic violations. Additionally, Mr. Soleimanian has 20 years of experience in the auto industry with a Bachelor degree in Engineering. Hit and run offenders may be able to reduce their consequences by contacting our team today. Mr. Ticket also defends against other traffic charges, including reckless driving, drunk driving and red light camera tickets.