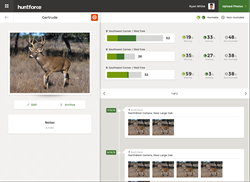 HuntForce allows hunters to be better at what they love doing. Now, a hunter can easily find and track the deer to make each hunting trip even more victorious.
Omaha, Neb. (PRWEB) September 30, 2013
HuntForce, a new player in the deer hunting trail camera industry is generating significant attention from Midwest investors leading up to the startup's first Demo Day on October 3. This morning, HuntForce signed deals for $400,000 from three Omaha-based investors.
Dundee Venture Capital, who invested $100,000, led this early stage funding. The bulk of funding ($250,000) comes from Treetop Ventures, an investment firm that focuses on Omaha-area technology startups. A final $50,000 comes from Omaha's Mark Griffis, the president of Aviture, a technology firm focused on solutions through software.
"We look to make investments that create solutions within their industries." Treetop's founder and partner William Fisher shared. "HuntForce does just that for the hunting industry, and we are eager to help them realize that mission."
HuntForce is a web-based application that allows deer hunters to easily sort through the photos gathered from their trail cameras. A process that is historically burdensome and can take a hunter hours sorting through hundreds of photos taken from a trail camera is simplified and shortened to seconds with HuntForce.
A partnership with computer scientists at the Peter Kiewitt Institute at the University of Nebraska helped create HuntForce's proprietary antler-recognition software that expedites the photo sorting and fuels the strategic insights within the application.
Currently, there are more than 12 million big-game hunters in the United States that spend $14 billion on hunting equipment annually. Of that, the trail camera segment alone grew 20x over the past four years. Yet, according to co-founder Jim White, no one has figured out how to make downloading, searching and sorting photos taking with trail cameras easier – until HuntForce.
"HuntForce allows hunters to be better at what they love doing," said co-founder and lifelong deer hunter Jim White. "Now, a hunter can easily find and track the deer to make each hunting trip even more victorious."
Building a Strong Support System
The father-son co-founders recently relocated to Omaha, Neb., from Louisville, KY, to join Straight Shot, a software-as-a-service and e-commerce technology accelerator. As part of Straight Shot, HuntForce will debut its trail camera software on Demo Day next week.
Jim's son and co-founder, Ryan White shared that "Straight Shot has given us the network, business guidance and launch pad to make HuntForce a reality."
Additionally, GoodTwin, a relationship-focused web design firm, has partnered with HuntForce for branding work and website development. A full advertising and marketing campaign will be deployed following the beta test and will be led by Lake Strategic Marketing out of St. Paul, Minn.
Ryan White went onto say "We are going into beta with a product that is sure to delight avid hunters."
To join HuntForce's beta test, please visit HuntForce.com.
About HuntForce
HuntForce is a web-based application that solves a fundamental problem all hunters experience with their trail cameras – too much time wasted downloading and sorting photos instead of time spent hunting. HuntForce allows deer hunters to quickly sort and store their trail camera photos. Ultimately allowing hunters to be more strategic in their sport by identifying trophy deer and their habits.
About Straight Shot
Omaha's first software-as-a-service technology and e-commerce accelerator launched in July and has attracted more than 300 mentors and seven startups. Founders have come to Omaha from San Francisco, Minneapolis, Louisville, North Carolina, and more. Straight Shot sponsors include McCarthy Capital, the AIM Institute, Scott Technology Center, the SilverStone Group, First National Bank, Dundee Venture Capital and PayPal Developer in addition to several others. To learn more about Straight Shot, its startups, or its mentors and sponsors, visit straightshot.co.
About Treetop Ventures
Treetop Ventures is an Omaha based angel investment firm that has led investments totaling $19.8 million in Omaha-based start-ups. Its portfolio features Sojern, FTNI, Lodo Software, USMPS, Prism Technologies, Ballyhoo Software, Simple Insurance and Prairie Cloudware. Learn more at treetopventures.com.
About Dundee Venture Capital
HuntForce joins the 25 companies that Omaha-based Dundee Venture Capital has invested in since its start in 2010. Dundee invests in e-commerce and software-as-a-service companies with a strong founding team and a scalable solution to a unique problem. The venture capital firm's investments are between $50,000 and $500,000. To learn more about Dundee Venture Capital, visit dundeevc.com.