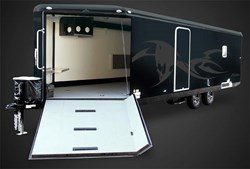 Seattle, Washington (PRWEB) October 25, 2013
Trailer Boss is a trailer retailer with rental abilities and a full service repair shop on site at each of its locations. Recently the staff posted a blog to their site titled "Trailer Sales Achieved by Finding Your Soul Trailer."
"It's no secret that our specialty is trailers," the post explains, "but our goal is to help you find the trailer that best meets your needs... your soul trailer!"
The post explains that there are many reasons someone might come in search of a trailer. Some may be starting a new company and know they will need the use of one on a daily basis in their business. Some are working on a specific task and have decided to make the investment to purchase instead of renting from a big national rental brand. Others might be going on a trip and know they need the use of a trailer to haul their luggage, supplies, etc.
Trailer Boss says they believe "customer satisfaction only comes when a level of trust is gained between the customer and the retailer. We work to earn that trust. We listen to what you say you want and need, and match you with the perfect fit."
Trailer Boss has locations in Rochester Washington, Olympia Washington, and Marysville Washington. They service customers from Portland Oregon, to Tacoma and Seattle Washington, and all the way up to Vancouver B.C.
They will even deliver a trailer to customers if they decide on the one they want by viewing the inventory online- see it here.
The inventory includes all of these different types of trailers: aluminum, ATV & UTV, car hauler, cargo, custom, dump, equipment, landscape, teardrop, tilt, tow dolly, and utility.
Offering many brands and styles, they say, is the best way to ensure that they can help customers find what they need. Their list of manufacturers includes: Everlite, Mirage, Maxey, Stehl Tow, Carry On, Top Notch, Olympic, Three Feathers, Pace, Doolittle, Walton, and Fabform.
Their site says that no one in the entire Northwest will sell a trailer for less.
Trailer Boss also says they carry a complete line of trailer accessories including: hitches, cabinets, tongue boxes, wheel chocks, weight distribution hitches, tires, wheels, tie down systems and more.
Their stores also offer three financing options; two personal, and one business. Personal financing is offered through either Springleaf Retail Solutions, or Advantis Credit Union. Business financing is offered through Sheffield Financial.
Those interested in seeing testimonials for Trailer Boss can view them by clicking here.
The hours for all three locations are as follows: Monday through Saturday 9am to 5:30pm. The shops are always closed on Sundays.
Trailer Boss Locations
Marysville Location
15314 Smokey Point Boulevard
Marysville, WA 98271
Phone: (425) 903-4985
Rochester Location
5732 Ivan Way SW
Rochester, WA 98579
360-273-7892
Olympia Location
7821 Martin Way E.
Olympia, WA 98516
360-923-2135