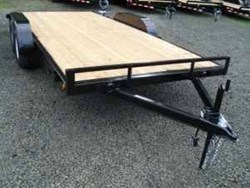 Olympia, WA (PRWEB) November 09, 2013
The Trailer Boss website lists three retail locations—Olympia, Rochester and Marysville--all in Washington state. These locations promise to have a wide variety of trailers including: aluminum, car haulers, cargo, dump, equipment, landscape, tile, tow dollies and utility.
To attain this variety of trailers, Trailer Boss states that they go to the best suppliers and assemble those vehicles that perform the best in the Northwest.
The Trailer Boss website is now featuring a blog on each of their suppliers. According to the blog administrator this is being done to help potential customers make a well-informed decision about what vehicle will best meet their needs.
One supplier which is prominently featured on the Trailer Boss website is Top Notch Trailers. They are manufactured in the Pacific Northwest—Rochester, Washington. According to the specs listed within the site, all these trailers have four wheel electric brakes and DOT approved trailer tires and rims that come with a warranty. Teardrop fenders are standard—except on triple axel models—and all trailers come stock fully primed, painted and pinstriped.
For a recreational trailer, Trailer Boss' website features three teardrop trailers from another local manufacture-- Three Feathers MFG, LLC out of La Grande, Oregon. This company specializes in customized camp trailers.
For customers who want cargo trailers, the website displays several trailers from Mirage Trailers. Mirage Trailers was founded in 2003 in Nampa, Idaho.
Walton Trailers is the brand of several dump trailers sold at Trailer Boss. There are several sizes featured on the website. Walton has built trailers for over 30 years. The Walton company claims on their own website that they have put a lot of effort into research in an effort to understand the needs of the consumer so they can develop trailers to meet these needs.
For a tow dolly, the Trailer Boss site shows that they have three sizes of tow dollies from Stehl Tow. The features of these towing vehicles include fenders with three steel support braces, one-year factory warranty and E/Z lube hubs which eliminate the need for disassembly of the wheel bearing for repacking.
Other companies that provide trailers for Trailer Boss include:

Carry-On
Doolittle
Everlite
Fabform
Maxey
Olympic
Pace
The site has more details about these trailers.
Trailer Boss calls itself a "one-stop" trailer store not only because they have so many trailers, but because they also have a whole department of parts, accessories, service and products. All three Washington state retail locations have licensed technicians on location.
Besides a large variety of trailers and suppliers listed on their website there is also an opportunity to apply for financing.