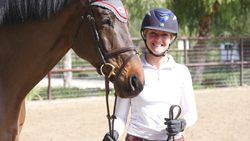 "I am honored to join Sweet Oaks and look forward to being part of the dynamic transition that is currently underway at the facility.
Temecula, CA. (PRWEB) April 17, 2017
Sweet Oaks, a top-flight equestrian training facility on 40 sprawling acres in the heart of Temecula horse and wine country, has named Jess Hargrave as Head Coach and Trainer.
Sweet Oaks was recently acquired by Heather Petersen, founder and CEO of National Merchants Association, a payments industry giant based in Temecula. Bringing on a trainer of Hargrave's stature demonstrates Petersen's commitment to raising the profile of the property.
"We are elated to have Jess Hargrave join Sweet Oaks and are confident that with her excellent equestrian credentials, in-depth knowledge and strong people skills, she will be a key factor in our success," Petersen said.
Hargrave is a United States Pony Club graduate "A", international level competitor, and equestrian sport psychology coach who hails from North Carolina where she developed a deep passion and dedication to the equestrian lifestyle at a very early age. She got her first pony when she was 3 years old and impressively reached her USPC "A" level rating at only 16 years of age.
Throughout her career as an athlete and coach, Hargrave has continually pursued advanced levels of training and education. She holds a Bachelor of Arts in Psychology, and a Master's Degree in Early Childhood, Special Education, and International Education, and has a background in learning theory.
Hargrave's strong educational foundation, combined with her commitment to health and wellness coaching, makes her unique among equestrian professionals. She is able to expertly assess an athlete's physical and mental fitness and create comprehensive programs to increase performance.
Hargrave trains riders of all ages and offers programs ranging from introductory lessons to the upper levels of Dressage and Eventing.
"I am honored to join Sweet Oaks and look forward to being part of the dynamic transformation that is currently underway at the facility," Hargrave said. "My top priorities include expanding the range of equestrian services that we offer, and promoting health and wellness for both students and horses."
She credits some of the sport's most recognizable coaches and mentors for positively impacting her career. Among the many people that have influenced her career are United Kingdom Olympian and 3-day eventing legend Lucinda Green MBE, International competitor and ICP Level IV coaches Holly Hudspeth and Tamra Smith, international level rider and course designer John Michael Durr, and Canadian Olympian Rebecca Howard.
Hargrave is currently offering regular lesson programs and training for riders and horses of all ages and disciplines and will soon begin a U.S. Pony Club Riding Center at Sweet Oaks. Visit http://www.SweetOaks.com for information on training and facilities.
About Sweet Oaks
A world-class equestrian training facility with top-of-the-line amenities and some of the country's most respected trainers, Sweet Oaks is located on 40-acres in the heart of Temecula horse and wine country. The property is dedicated to creating elevated experiences for equestrians and visitors alike. Sweet Oaks is undergoing an exciting transformation that includes plans for a wine production facility, and a picturesque venue for live music, private events, and destination weddings. Visit http://www.SweetOaks.com.