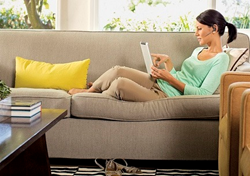 With a new iPad adaptation of the course, SIMmersion has made the experience more immersive and convenient than ever
Columbia, MD (PRWEB) February 25, 2015
A young jobseeker sips her coffee at home while speaking to a professionally-dressed woman on the screen of her iPad.
"Could you describe your work pace? Do you work faster, slower, or at about the same speed as other people?" asks the woman, video of her face filling the screen while she speaks.
"I do work slower than most people," the jobseeker admits, "but I'm very accurate and rarely make errors."
As the woman on-screen follows up with additional questions, an observer might ask: Is the jobseeker in the middle of a phone interview? Paying for a remote coaching session with an interview expert? Role-playing with a friend or a family member?
In fact, she is training with SIMmersion's virtual interviewer Molly Porter, the strikingly realistic simulated character at the heart of the evidence-based course Job Interview Training. With a new iPad adaptation of the successful training intervention, SIMmersion has made the experience more immersive and convenient than ever.
"Job Interview Training fills a critical need in the marketplace, and the interest we've seen it gather reflects that," says Dale Olsen, PhD, President of SIMmersion. "Bringing the course to the iPad is just one more way we can make this training give users the experience they're looking for."
Job Interview Training was funded by the National Institute of Mental Health (NIMH, Grant R44MH 080496) to help people from all backgrounds improve their interview skills and confidence. By learning interview strategies and then putting skills into practice in realistic interviews with the character Molly Porter, users get the benefits of role-play practice whenever they want. Molly has a library of more than a thousand standard interview questions to draw from, including follow-up questions and options personalized to the information that users share about themselves on a mock job application. She has several different personalities that vary from play to play, and an emotional model that makes her grow warm and encouraging or cool and formal during the course of the interview depending on the quality of the user's answers. An on-screen coach provides immediate feedback, and a comprehensive after-action review broken down by specific objectives (e.g. sounding dependable, showing interest in the job) lets users see a snapshot of their skills at that moment.
Researchers at Northwestern University found that jobseekers with disabilities and veterans who trained with Molly had significantly higher interview skills and self-reported confidence than their peers without the training. Follow-up research six months after the study found that people who used the training were eight times more likely to have received real job offers than members of the control group.
Since 2013, the course has been available online at http://www.jobinterviewtraining.net and on PCs through DVD installation. The new iPad version of Job Interview Training opens up additional options for the benefit of consumers:
*Immersive speech recognition. Robust speech recognition in the iPad lets users control the conversation seamlessly with voice alone, making the encounter feel as close as possible to a real interview. (Speech recognition is also active in the desktop version of Job Interview Training.)
*Maximum convenience. Users can play through the virtual interview with Molly anywhere with a wifi connection, such as coffee shops or airports. For even more flexibility, users can download all the necessary media files within the app with one click and take their playing offline.
*Full integration with SIMmersion's Training Center. Plays the user completes in the Job Interview Training app are automatically logged at SIMmersion's Training Center (training.simmersion.com) so users can log in to see visualizations and data about their scores over time.
"We're very pleased with the user experience this new version offers, and we look forward to creating apps of our courses for other audiences, such as Motivational Interviewing with Jack Grant for healthcare professionals and the award-winning Hands-On Interview and Interrogation Training System (HIITS) for law enforcement," says Dr. Olsen.
Job Interview Training will be live in the App Store by summer 2015, and on Android tablets later in the year.
About SIMmersion
SIMmersion's mission is to train communication skills faster and more effectively by combining the world's most realistic simulated experiences with highly interactive training content and extensive user feedback. For more information, contact SIMmersion online or at 443-283-2555.
*image courtesy PlantronicsGermany /Flickr, Attribution-NoDerivs 2.0 Generic license (CC BY-ND 2.0)