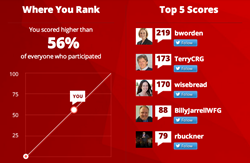 With financial services being a dominant conversation on Twitter, we felt that developing a way for people to see their influence on the subject in an innovative way could assist in enhancing the conversation. - Allan Gungormez, Director of Social Media
Los Angeles, CA (PRWEB) January 07, 2014
The topic of "financial services" is the second most discussed subject on Twitter with 1.5 million mentions per day. Transamerica recognizes the strong demand for clarity and understanding about financial products and services and in response, has created a new microsite: Finfluencer.com. The site measures how "finfluential," an individual appears to be on Twitter. Transamerica has coined the term "finfluencer" to characterize a person or entity that seeks to influence the discussion pertaining to financial services, specifically on Twitter.
Through a custom-designed algorithm, Transamerica measures specific key words related to financial services and compares the score against top contributors the individual follows on Twitter in order to determine a "Finfluential" score. It also provides bloggers and others who promote online discussion about financial services topics a way to compare their scores with others.
The microsite is a responsive website that is accessible by all users based in the United States. Those who wish to receive their Finfluencer score can log on to Finfluencer.com with a single sign-on via Twitter. The microsite will require permissions to be granted for the purpose of scanning and analyzing a user's Twitter account.
Finfluencer.com features include:

Scans all user's tweets for specific financial service related key words
Takes a look at who in the financial industry a user follows
Crunches the data and produces a Finfluential score
Allows users to share their score with their social following to compare Finfluencer ranking
"With financial services being a dominant conversation on Twitter, we felt that developing a way for people to see their influence on the subject in an innovative way could assist in enhancing the conversation," said Allan Gungormez, Director of Social Media Strategy at Transamerica. "This site was developed as a unique experience to highlight top contributors in the financial space and help them measure their impact in the ongoing conversation."
Stay updated with Transamerica's latest developments and activity via Twitter, Facebook and LinkedIn.
###
About Transamerica
The Finfluencer Microsite is sponsored by Money Services, Inc. a Transamerica company. Transamerica, through its subsidiary and affiliated companies in the Americas, is one of the leading providers of life insurance, retirement, long-term savings and investment solutions. Its companies in the United States trace their roots back over 100 years. Transamerica's main offices are in Cedar Rapids, Iowa, and Baltimore, Maryland, with affiliated companies' offices located throughout the United States. For more information: transamerica.com.
Media Inquiries
Allan Gungormez, Director, Social Media Strategy Transamerica
Phone: (+1) 213-742-2331
Email: allan.gungormez(at)transamerica(dot)com