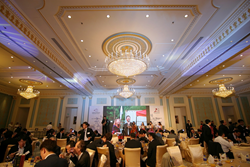 "With this 20th anniversary as the milestone, I would like to continue to move forward for the society, for our clients, and for our employees aiming at even further growth."by Kokkei Nakayama, President and Chairperson of transcosmos Information Creative
Tokyo, Japan (PRWEB) November 17, 2015
transcosmos inc. held a 20th anniversary commemorative ceremony for its subsidiary transcosmos Information Creative (China) Co., Ltd. (Headquarters: Tianjin City, China; President and Chairperson: Kokkei Nakayama), which mainly offers systems development services in China.
transcosmos Information Creative (China) Co., Ltd. is an outsourcing corporation established in 1995 which mainly provides such services as systems development, systems integration, and IT technology support. It has celebrated its 20th anniversary in 2015, and a 20th anniversary commemorative ceremony was held with its corporate clients and the local government officials in attendance at The Ritz-Carlton Hotel in Tianjin City, China.
Mr. Kokkei Nakayama, President and Chairperson, commented: "For the past 20 years, we have gone through many different stages, such as a smooth growth, difficult times such as SAAS and the Lehman Shock, the weak yen, and an increase in the labor cost; however, we have always overcome the difficulties with our clients' support and our employees' efforts. For 20 years since establishment, with everyone's support, along with China's rapid development transcosmos Information Creative (China) Co., Ltd. has been steadily growing as transcosmos' first business site in China. Currently there are business sites in Tianjin, Suzhou, Tokyo, Guangzhou, Shenzhen, Shenyang, and Jinan, with the number of employees reaching 1,300. I would like all of our employees to continue to make utmost efforts in order to respond to our clients' expectations. With this 20th anniversary as the milestone, I would like to continue to move forward for the society, for our clients, and for our employees aiming at even further growth."

About transcosmos Information Creative (China) Co., Ltd.
transcosmos Information Creative (China) Co., Ltd. has been offering a wide range of information services to the business world such as software localization development mainly for the software development for the Japanese market, systems integration, systems maintenance, systems technology support, systems base development, DB solutions, smart solutions, and E-Commerce solutions, and at the same time, it has been actively working on development of Smartphone games.
In 2001, transcosmos Information Creative (China) Co., Ltd. received ISO9000 certification, and every year since 2003, it has been ratified as one of "Key Software Enterprises under the National Planning," selected jointly by The National Development and Reform Commission (NDRC), Ministry of Industry and Information Industry of the People's Republic of China (MIIT), Ministry of Commerce of the People's Republic of China (MOFCOM), and State Administration of Taxation (SAT). It has also received CMMI3, CMMI5, and ISO27001 certifications as well.
In recent years, it has promoted development of the market for foreign-capital corporations, nationally-owned corporations and corporations in the private sector in China and the market for mobile devices such as Smartphone and tablets; and at the same time, it has also concentrated its efforts in new businesses including cloud service, application of the Big Data related technology and research of the services, and across-the-border E-Commerce websites.
Company Name: transcosmos Information Creative (China) Co., Ltd.
Location: No.9 Kaihua Road, Huayuan Industrial Area, Tianjin New Technology Industrial Park, Tianjin City, China
Establishment: February 1995
Capital: 15 billion yen (100% subsidiary of transcosmos inc.)
Representative: Kokkei Nakayama, President and Chairperson
Number of Employees: Approximately 1,300
Nature of Business: Systems development, systems integration, IT technology support
URL: http://www.trans-cosmos.com.cn
Since its expansion into the China market in 1995, transcosmos has been firmly expanding its business. The services provided by transcosmos in China are diverse, including call center service, BPO service, digital marketing service, E-Commerce one-stop service, and off-shore service, supporting Japanese corporations, global corporations, and local corporations, with their sales expansion and cost reduction.
transcosmos is a registered trade name or trademark of transcosmos inc. in Japan and other countries.
Other company names and product or service names mentioned are registered trade names or trademarks of various other companies.
About transcosmos inc.
transcosmos launched operations in 1966. Since then we have combined superior "human resources" with up-to-date "technological" capabilities to enhance the competitive strength of our clients by providing them with superior and valuable services. transcosmos currently offers Cost Reduction Services (Contact Center, HR/Financial/Sales Back Office, Order Management/SCM, System Development/Management etc.) and Sales Expansion Services (Big Data Analysis, Internet Advertising, Website Construction/Management, Smartphone/SNS Utilization, Telemarketing etc.). transcosmos continues to pursue operational excellence by providing these services through our 150 locations in 25 countries with a focus in Asia. Furthermore, following the expansion of E-Commerce market on the global scale, transcosmos provides a comprehensive, one-stop global E-Commerce service to deliver our clients' excellent products and services to consumers in 36 countries. transcosmos aims to be the "Global BPO Partner" of our clients to provide them with high quality BPO services on a global scale.