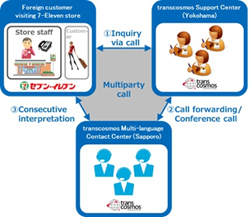 Now, as the number of foreign tourists and foreigners living in Japan expected to increase further toward 2020, the two companies collaborate and launch the support service in English and Chinese languages for 7-Eleven stores
Tokyo, Japan (PRWEB) September 08, 2016
[Tokyo, Japan, August 31, 2016 ]
Seven-Eleven Japan Co., Ltd. (President: Kazuki Furuya; hereafter, Seven-Eleven) and transcosmos inc. will jointly launch "Store Support Service*" in English and Chinese in addition to Japanese for 7-Eleven stores starting on Thursday, September 1, 2016.
Seven-Eleven has been offering "Store Support Service" since November 2011. It's leveraging transcosmos's scheme to respond to various inquiries** coming from store staff as well as from the customers as the products and services available at 7-Eleven stores continue to diversify.
Now, as the number of foreign tourists and foreigners living in Japan expected to increase further toward 2020, the two companies collaborate and launch the support service in English and Chinese languages as a part of the support scheme for 7-Eleven stores.
*: A service which provides overall store operational support from the dedicated call center to respond to and to provide support for store inquiries, capitalizing on the operators' professional knowledge as necessary
**: Responds to customer inquiries on operating procedures for register and multi-function copier, POSA/ PIN card, payment methods, products, and omni-channel services
Service Overview
Target Stores: All 7-Eleven stores across Japan (as of the end of July: 18,860)
Service Hours: 9:00- 21:00 *service hours may be extended depending on the needs
*Current store support services in Japanese are available 24/7
Supported Foreign Languages: English and Chinese *other languages may be added depending on the needs
Reference
《About Seven-Eleven Japan Co., Ltd.》
 Company Name: Seven-Eleven Japan Co., Ltd.
 Location: 8-8 Nibancho, Chiyoda-ku, Tokyo 102-8455, Japan
Representative: President Kazuki Furuya
 Date of Establishment: November 20, 1973
 Capital: 17,200 million yen
 Total Store Sales in Japan: 4,291,067 million yen (results of the year ended on February 28, 2016)
 Total Number of Stores in Japan: 18,860 (as of the end of July 2016)
《About transcosmos inc.》
 Company Name: transcosmos inc.
 Location: 3-25-18, Shibuya-ku, Tokyo, 150-8530 Japan
 Representative: President & COO Masataka Okuda
 Date of Establishment: June 18, 1985
 Capital: 29,065.96 million yen
 Number of Employees: Group: 16,401, Stand-alone: 9,069 (as of the end of March 2016)
 Number of Bases: 162 (Japan: 51 bases, Global: 111 bases across 27 countries)
 Business: Business process outsourcing business