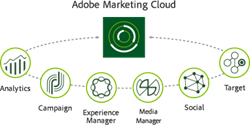 This partnership was signed to accelerate the marketing strategies of Japanese and overseas companies, by combining Adobe's powerful marketing solution along with the production and operations capabilities of transcosmos.
(PRWEB) May 21, 2015
Adobe Systems Co., Ltd. (Headquarters: Shinagawa-ku, Tokyo; President Eugene Saburi; hereafter, Adobe) and transcosmos inc. (Headquarters: Tokyo, Japan; President and COO: Masataka Okuda; TSE First Section: 9715; hereafter, transcosmos) today announced plans to strengthen their partnership in the digital marketing field.
As one of Adobe's premier partners, transcosmos will deliver a digital marketing solution to both Japanese and overseas businesses, combining the six core solutions under Adobe Marketing Cloud with the company's expertise in on-site, near-shore and off-shore productions and operations in business process outsourcing (BPO) sector. With support from Adobe, transcosmos has a force of 150 operators who are trained to handle basic navigation and operations on Adobe Marketing Cloud. transcosmos has also established a digital content production service using Adobe's customer experience management solution, Adobe Experience Manager, under its existing web integration business.
Through this partnership, Adobe will deliver more precise support, for domestic companies and those companies who aim to expand businesses globally, to enable an environment to establish comprehensive digital marketing solution which provides everything from the production to optimization of marketing contents.
This partnership was signed to accelerate the marketing strategies of Japanese and overseas companies, by combining Adobe's powerful marketing solution which include analytics, customer experience, mobile, DMP, personalization and social media along with the production and operations capabilities of transcosmos.
Adobe Marketing Cloud is an open platform integrated for the purpose of online business optimization. It collects and utilizes customer insight and consists of apps to optimize customer attraction, conversion, retention, contents creation, and delivery. It creates a highly relevant, personalized, and consistent customer experience across multiple digital marketing channels such as website, display ad, e-mail, social media, video, and mobile. With this total solution, improved and automated customer interaction is possible, to maximize the ROI (Return on Investment effect) and as a result increase the profit ratio.

Operation services offered by transcosmos
Policy planning: Deliver efficient test design and effective policy planning by combining Adobe Marketing Cloud data and transcosmos' knowhow.
Scenario design: Design the best scenario by conducting comprehensive analysis of advertising, mail magazine, and web etc. including A/B testing between scenarios.
Data Management Platform (DMP): Using Adobe Audience Manager, enable the most optimal data extraction and management by utilizing various data such as web, e-mail, CRM, and call center
Production: Enables stable website management through process and quality management by combining transcosmos' operation knowledge and Adobe Experience Manager would realize
Advertising: Based on the data accumulated on Adobe Audience Manager and behavior history, enables to place advertising for the most relevant target segments.
Verification: Develop efficient test scenario and deliver result verification as one stop service by combining transcosmos' expertise in analysis and Adobe Marketing Cloud.
Reporting: Specialized staff members in various areas such as advertising operations, website analysis, and social media management, provide reports focusing on the results of various marketing measures and suggestions for improvement.
transcosmos is a registered trade name or trademark of transcosmos inc. in Japan and other countries.
Other company names and product or service names mentioned are registered trade names or trademarks of various other companies.
About Adobe
Adobe is changing the world through digital experiences.
For more information, visit http://www.adobe.com.
About transcosmos inc.
transcosmos launched operations in 1966. Since then we have combined superior "human resources" with up-to-date "technological" capabilities to enhance the competitive strength of our clients by providing them with superior and valuable services. transcosmos currently offers Cost Reduction Services (Contact Center, HR/Financial/Sales Back Office, Order Management/SCM, System Development/Management etc.) and Sales Expansion Services (Big Data Analysis, Internet Advertising, Website Construction/Management, Smartphone/SNS Utilization, Telemarketing etc.). transcosmos continues to pursue operational excellence by providing these services through our 133 locations in 18 countries with a focus in Asia. Furthermore, following the expansion of E-Commerce market on the global scale, transcosmos provides a comprehensive, one-stop global E-Commerce service to deliver our clients' excellent products and services to consumers in 39 countries. transcosmos aims to be the "Global BPO Partner" of our clients to provide them with high quality BPO services on a global scale.