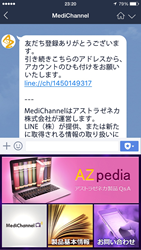 'By having a partnership with transcosmos, we will be able to deliver beneficial and optimized messages for those in the healthcare profession more securely,' said Florent Edouard, Vice President of AstraZeneca.
Tokyo, Japan (PRWEB) January 12, 2016
transcosmos announces its support of implementation of LINE Business Connect for AstraZeneca K.K. (Headquarters: Kita-ku, Osaka; President and Representative Director: Gabriel Baertschi; hereafter, "AstraZeneca").
transcosmos has been offering a service utilizing LINE Business Connect by supporting One-to-One communication in December 2014. AstraZeneca was considering communication tool to provide information for healthcare professionals by utilizing LINE service. For the purpose of improving timeliness and convenience, a membership website MediChannel" (URL: http://med.astrazeneca.co.jp), will be launched on December 25. The registered members can use the information delivery service (seminar-related information, information on new products, etc.) on LINE. transcosmos will provide support for its implementation in such areas, tie up between LINE user information and a membership website DB for the healthcare professionals, as well as message publication to the doctors, and LINE stamp design .
An operation officer Florent Edouard, Vice President,Commercial Excellence, and IT Division of AstraZeneca, has commented as the following:
"By having a partnership with transcosmos, experienced in One-to-One communication for the Smartphone, I believe we will be able to deliver beneficial and optimized messages for those in the healthcare profession more securely."
transcosmos is certified as a partner corporation for "LINE Business Connect Partner Program," for making proposals with the most optimal ways to utilize LINE Business Connect. In the future, transcosmos will continue to expand the services utilizing LINE Business to strive for sales expansion and cost reduction of its corporate clients.
-What is "LINE Business Connect"
This is a service offered by LINE Corporation which provides an API to businesses for the various functions of an official LINE account, and allows each company to customize their application. By using "LINE Business Connect," it is not only possible to deliver one-way messages to LINE users, but it also becomes possible to separately send more fully optimized messages to specific users. In addition, with the consent of users, it will also be possible to go beyond the bounds of usage as a message delivery tool. For instance, it's able to use as tools for the purposes of customer relationship management (CRM) or business solution (*) by linking a LINE account with a company's existing database and business systems. *LINE does not maintain the customer data of each company that is linked to a LINE account.
*transcosmos is a registered trade name or trademark of transcosmos inc. in Japan and other countries.
*Other company names and product or service names mentioned are registered trade names or trademarks of various other companies.
About transcosmos inc.
transcosmos launched operations in 1966. Since then we have combined superior "human resources" with up-to-date "technological" capabilities to enhance the competitive strength of our clients by providing them with superior and valuable services. transcosmos currently offers Cost Reduction Services (Contact Center, HR/Financial/Sales Back Office, Order Management/SCM, System Development/Management etc.) and Sales Expansion Services (Big Data Analysis, Internet Advertising, Website Construction/Management, Smartphone/SNS Utilization, Telemarketing etc.). transcosmos continues to pursue operational excellence by providing these services through our 156 locations in 26 countries with a focus in Asia. Furthermore, following the expansion of E-Commerce market on the global scale, transcosmos provides a comprehensive, one-stop global E-Commerce service to deliver our clients' excellent products and services to consumers in 36 countries. transcosmos aims to be the "Global BPO Partner" of our clients to provide them with high quality BPO services on a global scale.