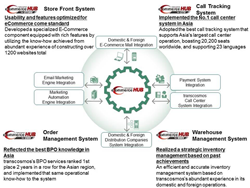 transcosmos provides One-Stop Service covering all features and services for E-Commerce operations
Tokyo, Japan (PRWEB) May 16, 2014
transcosmos inc. (Headquarters: Tokyo, Japan; President and COO: Masataka Okuda; TSE First Section: 9715; hereafter, transcosmos), as part of One-Stop E-Commerce Service covering all features and services for E-Commerce operations, will begin offering its internally developed integrated E-Commerce platform, the "transcosmos eCommerce HUB" (hereafter, eCommerce HUB).
The eCommerce HUB is an integrated E-Commerce platform comprised of operational excellence in IT outsourcing in areas such as business process outsourcing, contact centers and digital marketing that transcosmos has been perfecting for over 47 years. The four "Store Front", "Order Management", "Warehouse Management" and "Call Tracking" systems were seamlessly integrated by applying the E-Commerce platform system transcosmos has been developing for each client companies. This enables an integrated management of various touch point, thereby, realizing acceleration in operational PDCA of the whole E-Commerce and real time marketing. Furthermore, the system can be customized to meet the business needs of customers through its flexibility and expansion capabilities of integrating with external services such as E-Commerce malls, marketing systems, logistics and payments.
● Key Features of the eCommerce HUB
● Store Front System - Product search/product presentation/orders/member management/MY page/content display/inquiry management/periodical purchases /pre-orders/payment system integration etc.
● Order Management System - Combined shipping/automatic setting of salable quantity/order status/order filtering/multi-store operation management/payment management/inventory reservation/ return products data management/reserved products management etc.
● Warehouse Management System - Inventory receipt & shipment management/Inventory/materials management/single & multi picking/distribution company system management/integrated delivery slip/multiple warehouse operations/location management etc.
● Call Tracking System - Customer management/inquiry management/FAQ management/operator administration/escalation Management/response template management/promotion information etc.
transcosmos's E-Commerce One-Stop Services offer various features and services necessary for E-Commerce operations and management of E-Commerce services, from E-Commerce website development and operation to fulfillment, customer support, web promotions and analytics. As an E-Commerce business partner, transcosmos will continue to improve operational excellence of its clients' E-Commerce operations and maximize customer experience.

transcosmos is a registered trade name or trademark of transcosmos inc. in Japan and other countries.
Other company names and product or service names mentioned are registered trade names or trademarks of various other companies.
About transcosmos inc.
transcosmos launched operations in 1966. Since then it has combined superior "human resources" with the most up-to-date "technological" capabilities to enhance the competitive strength of its corporate clients by providing them with high value added and superior services. It provides overall IT outsourcing services such as Call Center Services, Business Process Outsourcing Services, and Digital Marketing Services either as standalone solution or as combined services to its corporate clients to optimize their marketing efficiencies, to expand sales and gain new customers in E-Commerce business, and to improve operational efficiency and reduce clients operational cost for back office and information system operations. Further, these services have been expanded beyond Japan, globally, centered in Asia.
transcosmos aims to be the "Global IT Partner" of its corporate clients to provide them with high quality outsourcing services on a global scale.
Inquiries from the media should be forwarded to transcosmos inc. Public Relations & Advertising Department
Mail: pressroom(at)trans-cosmos(dot)co(dot)jp