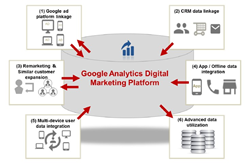 transcosmos will continue to encourage the acquisition of more advanced skills of GAIQ by employees.
Tokyo, Japan (PRWEB) July 06, 2015
transcosmos inc. announced that the number of its employees acquiring the Google Analytics Individual Qualification (hereafter, GAIQ), which is an individual qualification demonstrating comprehensive knowledge of Google Analytics, has reached 468 persons (as of June 30, 2015).
Google Analytics is evolving as a platform that can be utilized for advanced digital marketing such as ad targeting, while at the same time it is one of the most popular access analysis tools in Japan. There is a growing demand within user companies for human resources who are familiar with Google Analytics and capable of planning and executing marketing initiatives based on data derived from sources such as advertising and website information that has been analyzed in an integrated fashion.
As a certified partner and premium authorized reseller of Google Analytics, transcosmos has been actively involved from an early stage with the standardization of Google Analytics skills and the development of human resources equipped with application know-how. In the future too, transcosmos will continue to encourage the acquisition of more advanced skills by employees, while striving to improve services for client companies.

transcosmos is a registered trade name or trademark of transcosmos inc. in Japan and other countries.
Other company names and product or service names mentioned are registered trade names or trademarks of various other companies.
About transcosmos inc.
transcosmos launched operations in 1966. Since then we have combined superior "human resources" with up-to-date "technological" capabilities to enhance the competitive strength of our clients by providing them with superior and valuable services. transcosmos currently offers Cost Reduction Services (Contact Center, HR/Financial/Sales Back Office, Order Management/SCM, System Development/Management etc.) and Sales Expansion Services (Big Data Analysis, Internet Advertising, Website Construction/Management, Smartphone/SNS Utilization, Telemarketing etc.). transcosmos continues to pursue operational excellence by providing these services through our 147 locations in 25 countries with a focus in Asia. Furthermore, following the expansion of E-Commerce market on the global scale, transcosmos provides a comprehensive, one-stop global E-Commerce service to deliver our clients' excellent products and services to consumers in 34 countries. transcosmos aims to be the "Global BPO Partner" of our clients to provide them with high quality BPO services on a global scale.