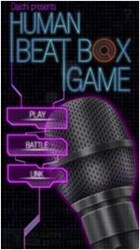 More than 160,000 people already have subscribed to Daichi's you tube channel.
Tokyo, Japan (PRWEB) August 28, 2013
transcosmos inc. (Headquarters: Tokyo, Japan; President and COO: Masataka Okuda; TSE First Section: 9715; hereafter, transcosmos), in collaboration with Watanabe Entertainment inc. (Headquarters: Tokyo, Japan; CEO: Miki Watanabe, hereafter, "Watanabe Entertainment") has released a new iPhone app named "Daichi presents Human Beat Box GAME". The app, "Daichi presents Human Beat Box GAME" (hereafter, "HBB") was developed by transcosmos in collaboration with Watanabe Entertainment under the supervision of Daichi, a young Japanese artist of Watanabe Entertainment known as Human Beat Boxer, who has been energetically performing worldwide. This app is available for use as of today.
Human Beat Box is a musical performance without using any musical instruments, where only sounds created from the mouth and lips are used to generate music. Along with voice percussion, which expresses the sounds of drum beats, performers compose music by mixing other sounds such as scratch, bass, clap, and noise with the drum. These skills were originated from the Hip Hop culture in its early days, and are also enjoyed by compete his/her skills against each other in a dance battle format.
Closely monitored by Daichi himself, HBB GAME is an app, where players can challenge Human Beat Box easier. With its high quality sound source and a wide variety of features, everybody from beginners to professionals can enjoy playing the game.
Features
1. Play Mode (Air Beat Box)
By holding a Smartphone like a microphone, the player can compose his/her music by following Daichi's pre-recorded beats. The player can also overlay his/her voice on Daichi's beat, of course, and enjoy performance in a jam session style with him. Moreover, players can enjoy Human Beat Box in a Karaoke or party scene. It's as if Daichi is right there in the room with everyone!
2. Battle Mode
Daichi will play a specific beat first for the player to mimic. Player listens to the beat and repeats it by facing the smartphone camera, and records it. The player can select two different levels: easy or normal. When the battle ends, a video of the battle scene is generated. The player may also edit this video with the app, and upload the finished video on YouTube as it is.
App Summary
Compatible OS: iOS5.0 or later (6.0 or later recommended)
Supporting device: iPhone4 or later
URL address: https://itunes.apple.com/us/app/daichi-presents-human-beat/id673067838?l=ja&ls=1&mt=8 (or search under "Daichi presents Human Beat Box GAME")
Fee: Free
In June, 2010, transcosmos has established a new project team that specializes in developing the apps suitable for Smartphone and tablet PCs based on high demand from many of transcosmos' clients in various industries, and ever since then, transcosmos have worked hard on many projects. transcosmos is entrusted by clients on operational management and support services on those programs on their behalf as well. Currently, transcosmos now offers a wide range of services that are related to apps: from development of original solution apps, support services on promotion and diffusion of apps, to even monetization of those apps. transcosmos will apply the know-how's we have gained from the experiences on developing a unique app such as HBB GAME and will let it reflect on the quality of our future app-related services and products, and it will only enhance our level of support and readiness for clients from a wide array of industries when their businesses become ready for expansion.
About Human Beat Boxer, Daichi
Daichi is a young, highly talented Human Beat Boxer! His talent has not only been widely recognized over the Internet as well as in the live scenes in Japan, but his amazing skills have also been highly praised in New York, which is the birthplace of Hip Hop music. Daichi was born July 2nd, 1990 from Fukuoka. From the age 10, he has started practicing on being a Human Beat Box on his own. He only uses his mouth, without using any musical instruments and can make over 50 different sounds. Furthermore, he can also play rhythms and melody simultaneously. One of his many YouTube video clips had 22,000,000 accesses. As his popularity soars, more than 160,000 people already have subscribed to his channel. In 2012, he has appeared as a challenger at The Apollo Theater, a historical live house also famously known as a "Gateway to Success" to many amateur entertainers. He has won Third place from this challenge at the Apollo. This is the first time a Japanese musician has ever won this position in The Apollo Theater's history. He has been actively performing collaboratively with some of Japan's major entertainers such as Toshinobu Kubota and a mega-popular idol group, SMAP, and has been busy participating in all sorts of music festivals in Japan as well as in other countries.

transcosmos is a registered trade name or trademark of transcosmos inc. in Japan and other countries.
Other company names and product or service names mentioned are registered trade names or trademarks of various other companies.
About transcosmos
Since our establishment in 1966, we have combined superior "human resources" with the most up-to-date "technological" capabilities to enhance the competitive strength of our corporate clients by providing them with high value added and superior services. We provide overall IT outsourcing services such as Call Center Services, Business Process Outsourcing Services, and Digital Marketing Services either as standalone solution or as combined services to our corporate clients to optimize their marketing efficiencies, to expand sales, and to improve operational efficiency and reduce clients operational cost for back office and information system operations. Further, these services have been expanded beyond Japan, globally, centered in Asia. We aim to be the "Global IT Partner" of our corporate clients to provide them with high quality outsourcing services on a global scale.
Contact for news media inquiries
Inquiries from the media should be forwarded to transcosmos inc.
Public Relations & Advertising Department
Mail: pressroom(at)trans-cosmos(dot)co(dot)jp