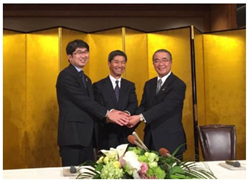 "I am holding great hope for the fact that the citizens of Nagasaki will be able to play a part in the global business that transcosmos has been working on." Tomihisa Taue, Mayor of Nagasaki City
Tokyo, Japan (PRWEB) March 11, 2015
transcosmos inc. (Headquarters: Tokyo, Japan; President and COO: Masataka Okuda; TSE First Section: 9715; hereafter, transcosmos) conducted a location agreement signing ceremony for the newly established "BPO Center Nagasaki" together with Nagasaki Prefecture and Nagasaki City. Operations will start in May 2015.
About BPO Center Nagasaki
Name: BPO Center Nagasaki
Location: 6-1, Ienomachi, Nagasaki City, Nagasaki Prefecture, Japan (2nd & 3rd floor)
Total Floor Area: Approx. 2,145m2
Launch Date : May 2015
Number of Employees: 400 (plan for FY2018)
Services Provided: BPO Services• Back-Office Services including general affairs, accounting, human resources & sales

SCM (supply chain management) Services including order operations
Design Support Services, etc.
At the signing ceremony held on February 20, the following comments from the governor of Nagasaki Prefecture and the mayor of Nagasaki City were received.
Hodo Nakamura, Governor of Nagasaki Prefecture "We are very grateful that transcosmos, as the largest firm in the BPO business and a global company representing Japan, has selected Nagasaki as a new business location for the development of new economic activity. We have heard that the business plan calls for the employment of 400 people, combining both administrative and technical personnel, and that there is also a view to further business expansion in the event that business progresses smoothly in the future. For Nagasaki Prefecture, which is facing structural challenges such as a population decline, a downturn in prefectural resident's income and a reduction of regional vitality, we are very grateful and I would like to sincerely thank you for providing a base of such high-quality employment."
Tomihisa Taue, Mayor of Nagasaki City
"I am holding great hope for the fact that the citizens of Nagasaki will be able to play a part in the global business that transcosmos has been working on. In addition, I also have expectations that in the future much innovative work will emerge, of a kind that has not existed in Nagasaki until now, through a vision of cooperation with the various universities and other institutions in Nagasaki City. As Nagasaki city's role, we will pledge to cooperate with Nagasaki prefecture to exert our utmost efforts to maximize employment and to ensure all business proceeds smoothly."
Scene of signing ceremony on February 20
Photo from left:
Tomihisa Taue, Mayor of Nagasaki City
Koji Funatsu, Chairman & CEO of transcosmos inc.
Hodo Nakamura, Governor of Nagasaki Prefecture
Photo of BPO Center Nagasaki
transcosmos possesses the industry's largest network of operation center, and with the opening of "BPO Center Nagasaki," the number of domestic locations reaches 45 and world-wide locations total 130. The services to be provided by "BPO Center Nagasaki" are BPO Services that respond to the major challenges of businesses, such as cost reduction and operational efficiency, where business is being expanded due to increasing demand. In the future transcosmos will continue strengthening the development of locally based services from the standpoint of tasks such as BCP (Business Continuity Plan), cost optimization and securing excellent human resources, as well as contributing to the revitalization and development of local communities through job creation.
transcosmos is a registered trade name or trademark of transcosmos inc. in Japan and other countries.
Other company names and product or service names mentioned are registered trade names or trademarks of various other companies.
About transcosmos inc.
transcosmos launched operations in 1966. Since then we have combined superior "human resources" with up-to-date "technological" capabilities to enhance the competitive strength of our clients by providing them with superior and valuable services. transcosmos currently offers Cost Reduction Services (Contact Center, HR/Financial/Sales Back Office, Order Management/SCM, System Development/Management etc.) and Sales Expansion Services (Big Data Analysis, Internet Advertising, Website Construction/Management, Smartphone/SNS Utilization, Telemarketing etc.). transcosmos continues to pursue operational excellence by providing these services through our 130 locations in 18 countries with a focus in Asia. Furthermore, following the
expansion of E-Commerce market on the global scale, transcosmos provides a comprehensive, one-stop global E-Commerce service to deliver our clients' excellent products and services to consumers in 39 countries. transcosmos aims to be the "Global BPO Partner" of our clients to provide them with high quality BPO services on a global scale
Contact for news media inquiries
Inquiries from the media should be forwarded to transcosmos inc.
Public Relations & Advertising Department
Mail: [email protected]