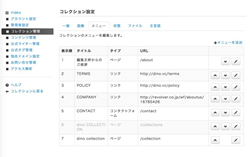 transcosmos opens its corporate clients' owned media in a short amount of time.
Tokyo, Japan (PRWEB) July 14, 2015
transcosmos inc. and Revolver, inc. have announced that they have entered into a business partnership to design and support management of the owned media for branding and marketing purposes.
transcosmos will utilize its social media marketing and operation support experience to expand sales of "dino collection". It is an owned media platform which Revolver independently developed. transcosmos will offer a comprehensive service in order to utilize the clients' owned media and social media efficiently.
Revolver will offer its owned media platform "dino collection". It was developed independently and enables transcosmos to open its corporate clients' owned media in a short amount of time. As a result, it carries out smooth operations.
The owned media platform "dino collection," which Revolver developed, has a "CMS (Contents Management System)" function which easily designs blogs and simple websites. It also has a "CGM (Consumer Generated Media)" function, which collects and edits the information published by the website designed by CMS and releases it as a curation site.
The content and media created by "dino collection" are optimized for dispersion and viewing on the social media. Then, it is possible to launch a curation site and viral media at a low cost.
-Price Offered
Initialization Cost: 300,000 yen (plus tax) Includes media design support, contents creation support at the time of start-up, PR support, etc.
System usage cost: 50,000 yen and up/month (plus tax)
Option: Contents creation/editing service, promotion support – we offer optional services to accommodate our customers' needs.
Through this business partnership, transcosmos and Revolver will aim at implementation for 100 companies in the coming year.
-Overview of transcosmos inc.
Company Name: transcosmos inc.
Location: 3-25-15 Shibuya, Shibuya District, Tokyo
Established: June 18, 1985
Representative: President and COO Masataka Okuda
Business Description: Providing business process outsourcing services
URL: http://www.trans-cosmos.co.jp/
-Overview of Revolver, Inc.
Company Name: Revolver, Inc.
Location: 5-8-11 Hiroo, Shibuya District, Tokyo
Established: July 2012
Representative: President and CEO Hiroshi Ogawa
Business Description: Developing and operating social owned media platforms
URL: https://revolver.co.jp/
Inquiries from the media should be forwarded to
transcosmos inc.
Public Relations & Advertising Department
Email: pressroom(at)trans-cosmos(dot)jp
Revolver, Inc.
Public Relations/Community Manager
Saori Ojima (press(at)revolver.co(dot)jp)