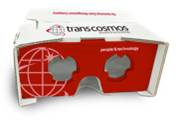 New VR Viewer App "SphereVR" for iOS and Android is available in the near future
Tokyo, Japan (PRWEB) September 15, 2015
transcosmos inc. has started offering "SphereVR," which utilizes Virtual Reality (hereafter, VR) technology and allows users to experience virtual reality of 360-degree spherical panorama moving images.
Due to advancement of VR technology and popularity of motion picture playing device such a smartphone, VR is now being fully utilized by corporations, and its market scale is expected to reach $30 billion by the Year 2020 (source: Digi-Capital).
transcosmos's "SphereVR" is a new one stop service where promotion through use of VR. It enables to offer services such as creation of 360-degree spherical panorama motion pictures which requires special equipment, production of 3D motion pictures such a "Side By Side" (*1). As well as apps development, contents delivery, creation of VR goggles for distribution, and arrangement of VR viewing device, can be offered easily and conveniently. In addition, the VR motion picture and viewing method can be selected from three different types depending upon usage such as events and novelty item distribution.
*1 SIDE BY SIDE is a type of saving format and delivery method of the 3D motion pictures, which appear three-dimensional by having images for the left eye and the right eye side by side on one screen and by using special goggles to watch.
This service has already been used for creation of "Shimano VR Viewer," an exhibit event for fishing equipment manufactured by Shimano Inc. (Headquarters: Sakai City, Osaka; President: Yozo Shimano). In addition, Motion VR is scheduled to be used for promotion of a new song "Insight/Ledger" by WHITE ASH, represented by VAP inc. (Headquarters: Chiyoda-ku, Tokyo; President: Shuji Hanafusa)

https://itunes.apple.com/en/app/shimanovrbyuwa/id959446646?mt=8
https://play.google.com/store/apps/details?id=jp.co.shimano.vrviewer&hl=en

WHITE ASH "Insight /Ledger" 360-degree motion picture * The following are all images of the same song from different angles.
http://www.360ebis.com/assets/movie/Jails1/index.html
http://www.360ebis.com/assets/movie/Jails2/index.html
http://www.360ebis.com/assets/movie/Jails3/index.html
-VR Viewer App "SphereVR," iOS version/Android version (coming soon)
A VR Viewer app "SphereVR," to enjoy VR (Virtual Reality), using a 360-degree spherical panorama motion picture, with a fantasy-like experience as if warping to another world, easily with your Smartphone is scheduled to be released soon. Various channels, including a VR live image of WHITE ASH's new song release promotion, are scheduled to be opened to allow users to experience the world of 360-degree moving image.
transcosmos is a registered trade name or trademark of transcosmos inc. in Japan and other countries.
Other company names and product or service names mentioned are registered trade names or trademarks of various other companies.
About transcosmos inc.
transcosmos launched operations in 1966. Since then we have combined superior "human resources" with up-to-date "technological" capabilities to enhance the competitive strength of our clients by providing them with superior and valuable services. transcosmos currently offers Cost Reduction Services (Contact Center, HR/Financial/Sales Back Office, Order Management/SCM, System Development/Management etc.) and Sales Expansion Services (Big Data Analysis, Internet Advertising, Website Construction/Management, Smartphone/SNS Utilization, Telemarketing etc.). transcosmos continues to pursue operational excellence by providing these services through our 148 locations in 25 countries with a focus in Asia. Furthermore, following the expansion of E-Commerce market on the global scale, transcosmos provides a comprehensive, one-stop global E-Commerce service to deliver our clients' excellent products and services to consumers in 34 countries. transcosmos aims to be the "Global BPO Partner" of our clients to provide them with high quality BPO services on a global scale.