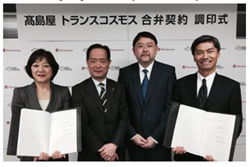 Takashimaya and transcosmos opened a joint venture in Singapore on March 3.
Osaka, Japan (PRWEB) March 05, 2015
Takashimaya Company, Limited (Headquarters: Osaka, Japan; President: Shigeru Kimoto; hereafter, Takashimaya) and transcosmos inc. (Headquarters: Tokyo, Japan; President and COO: Masataka Okuda; TSE First Section: 9715; hereafter, transcosmos) have agreed to establish a joint venture company called "TAKASHIMAYA TRANSCOSMOS INTERNATIONAL COMMERCE PTE. LTD. (hereafter, TTIC)," which will carry out wholesale and retail sales operations to make proposals for and to supply high-quality Japanese products overseas. A signing ceremony was held on February 27 and its headquarters will be established in Singapore on March 3 (scheduled).
Takashimaya and transcosmos opened a preparatory office to establish this joint venture in October 2014, where they have held a series of consultations regarding matters such as the construction of a new platform, overseas sales network development and supplier development for providing high-quality and attractive Japanese products to overseas markets. The "TTIC" joint venture scheduled to be established in March will take advantage of Takashimaya's know-how in areas such as merchandise procurement and sales floor management, against its background of creditworthiness and sales strength cultivated over many years in the retail trade, as well as the operational know-how developed by transcosmos in the E-Commerce business domain, including a wide range of sales channels and Global E-Commerce One-Stop Services. This will provide a "platform hub" which will perform the role of bringing together Japanese companies with their eye-catching high-quality products and the overseas enterprises and consumers who have demands for those products. Initially, it is planned to make this available in the ASEAN countries and China.
"TTIC" Overview
Company name: TAKASHIMAYA TRANSCOSMOS INTERNATIONAL COMMERCE PTE. LTD.
Location: Central Singapore
Date of establishment: March 3, 2015 (scheduled)
Capitalization ratio: Takashimaya 51%, transcosmos 49%
Capital: 17,300,000 Singapore Dollars
Representative: Kazuto Taniguchi (President)
Business content: Mainly wholesale business for distribution, retail & E-Commerce business operators in ASEAN
Shop operations for stores & E-Commerce Support business for companies expanding overseas
Scene of signing ceremony on February 27
Photo from left:
Takashimaya Company, Limited
Senior Managing Director, Miharu Koezuka
President, Shigeru Kimoto
transcosmos inc.
President & COO, Masataka Okuda
Chairman & CEO, Koji Funatsu
Reference: Diagram of "TTIC" platform hub
Takashimaya Company, Limited - Overview
Business name
Takashimaya Company, Limited
Representative President, Shigeru Kimoto
Location 1-5, Namba 5-chome, Chuo-ku, Osaka 542-8510, Japan
Established August 20, 1919
Capital 56,025,125,471 JPY
Business content
Department store, corporate, mail order & group businesses
transcosmos inc. - Overview
Business name transcosmos inc.
Representative
President & COO, Masataka Okuda
Location 3-25-18, Shibuya, Shibuya-ku, Tokyo 150-8530, Japan
Established
June 18, 1985
Capital
29,065,968,631 JPY
Business content
Business process outsourcing business
Contact for news media inquiries
Inquiries from the media should be forwarded to transcosmos inc.
Public Relations & Advertising Department
Mail: pressroom(at)trans-cosmos(dot)co(dot)jp