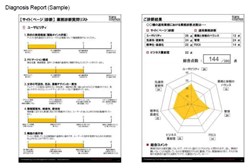 Evaluations performed by professional team that was selected from 1,000 highly experienced experts
Tokyo, Japan (PRWEB) October 17, 2013
transcosmos inc. (Headquarters: Tokyo, Japan; President and COO: Masataka Okuda; TSE First Section: 9715; hereafter, transcosmos) will be starting a new Web Site Diagnostic Service. This new service is created from transcosmos' expertise and know-how and is based on extensive experience in annually handling over 500 web site production of its customers and the operations affairs generated by them. By quantifying using the 70-item check points, transcosmos' special team will perform comprehensive diagnostic services on customer's business web pages, operations affairs, and identifies their degree of business contribution.
In today's world, business web sites are increasing their "owned media" presence more and more each day, and how to capitalize on their business web site and to keep up with innovations while trying to continue running cost-effective operations are becoming virtually impossible. In the mean time, digital marketing environment is also changing rapidly due to the spread of multi-device use with Smartphones and tablet computers along with advancement on digital solutions and such. Every business is now faced with the reality that it has to reevaluate its own web site with a critical eye and must act upon necessary improvements promptly; otherwise, their business suffers.
To tackle these pressing issues, this new service provides a customer's current web site reality check by analyzing its web site page by page and runs a comprehensive evaluation on every area of web sites. This new service makes an assessment on how the customer's current operations affairs are done, identifies where its degree of business contribution stands, and selects what needs to be done as well as prioritizes "To-Do" list for the customer in order for their business to compete and be successful in today's digital marketplace. Furthermore, this new service offers the best support and helpful suggestions in various areas where solutions are needed such as system architecture, web site renewal, outsourcing of operations, and access analyses, etc.
Evaluations performed by professional team that was selected from 1,000 highly experienced experts
1,000 professional staff members at transcosmos are working on over 500 web site production/reviews and operations affairs annually for its customers. In order to start and sufficiently provide this new service, transcosmos has formed a special new team by painstakingly selected their staff with the two critical qualities in mind: candidates' expertise skill sets must be satisfactory for the types and levels of technical demands, and they have to have more than 10 years of professional experience under their belts. These elite technicians have applied their professional expertise and know-how and carefully prepared 70-item check points, and with the use of independent research and hearing, they will be using these check points to quantify and to evaluate.
transcosmos provides feasible service menu and system, where customers can use as "One-Stop" solution center.
transcosmos offers a wide variety of expert services in the field of digital marketing, and also provide services for system architecture, web site renewal, operations affairs, access analyses, as well as troubleshooting on all these. transcosmos is proud to be its customers' "One-Stop" solution center.
Service Outline
Page Diagnostics
1. Usability: Usability check on page design, searching, navigation, etc.
2. Adaptability to advancement or renewal: Introduction/implementation on new web technology, correspondence checks with the multi-device, etc.
3. Standardization, Optimization: Quality check on coding, html source, and correspondence status on standard version, etc.
Operational Business Diagnostics
4. "Business-System" Balance: Balance check-up between the Operations Affairs Man-Hours and its employees' skill sets, etc.
5. Management: Evaluations on the Work Flow of Operations Managerial Duties, Business Manual Development Status, Business Risk, etc.
6. PDCA: Evaluations by PDCA on Operations Team Management, Operational Improvement Processes, etc.
Degree of Business Contribution
7. Degree of Business Contribution: Identify the Critical Goal Indicator (CGI) or target, competitive advantage, etc.
Service Menu
Full Diagnostic Service / Simple Diagnostic Service
No. of Check Point Items/ 70 / 30
Fees/ ¥600,000 / ¥200,000 
Duration/ 3~4 weeks / 2 weeks
transcosmos will continue to firmly support digital marketing for our clients' businesses.

transcosmos is a registered trade name or trademark of transcosmos inc. in Japan and other countries.
Other company names and product or service names mentioned are registered trade names or trademarks of various other companies.
About transcosmos inc.
transcosmos launched operations in 1966. Since then it has combined superior "human resources" with the most up-to-date "technological" capabilities to enhance the competitive strength of its corporate clients by providing them with high value added and superior services. It provides overall IT outsourcing services such as Call Center Services, Business Process Outsourcing Services, and Digital Marketing Services either as standalone solution or as combined services to its corporate clients to optimize their marketing efficiencies, to expand sales and gain new customers in E-Commerce business, and to improve operational efficiency and reduce clients operational cost for back office and information system operations. Further, these services have been expanded beyond Japan, globally, centered in Asia.
transcosmos aims to be the "Global IT Partner" of its corporate clients to provide them with high quality outsourcing services on a global scale.
Contact for news media inquiries
Inquiries from the media should be forwarded to transcosmos inc.
Public Relations & Advertising Department
Mail: pressroom(at)trans-cosmos(dot)co.jp