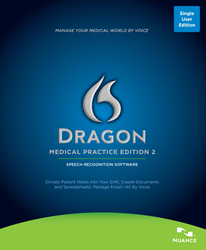 Adding value to the services and products we provide is a priority at The Transcription Center, Inc., as evidenced by the addition of industry leading Dragon Medical Practice 2 to our product inventory
Austin, TX (PRWEB) March 24, 2015
The Transcription Center, Inc., announced today the availability of Dragon® Medical Practice Edition 2, allowing them to offer the most advanced speech recognition technology available, to date. Dragon Medical Practice Edition 2 streamlines workflows and optimizes the use of Electronic Medical Record (EMR) systems for medical practices with 24 physicians or less.
"Adding value to the services and products we provide is a priority at The Transcription Center, Inc., as evidenced by the addition of industry leading Dragon Medical Practice 2 to our product inventory," said Cathy Daniels, the company's President and CEO. "Dragon Medical's software adds ease and effectiveness to the dictation process, further helping us meet our customers' transcription needs, as well as assisting with the achievement of their primary business objectives and goals."
Physicians who adopt Dragon Medical Practice Edition 2 can turn speech into text three times faster than typing with more than 99 % accuracy, right out of the box. With Dragon Medical Practice Edition 2, clinicians can dictate patient encounters in their own words, including history of illness, review of symptoms, physical examinations and more.
Dragon Medical Practice Edition 2 helps clinicians overcome the frustrations associated with EMR adoption, by voice enabling the navigation and dictation process. The software includes over 90 medical specialty and subspecialty vocabularies, as well as regional accent support, including British, Indian, Spanish, and inland northern and southern U.S. dialects. Physicians can also employ customized macros for frequently used phrases and words, thereby saving additional time on the editing process.
Seamless integration with almost every EMR system is also a key feature of Dragon Dictate Medical Practice 2. This enables physicians to spend less time filling out charts and completing documentation. Additionally, clinicians can create more comprehensive and accurate patient records, resulting in more effective coding, achievement of Meaningful Use criteria and ultimately, higher reimbursement levels equating to a substantial return on investment.
For more information about Dragon Medical Practice Edition 2 visit: http://thetranscriptioncenter.com/dragon-medical.html
About The Transcription Center, Inc.:
The Transcription Center, Inc. has been serving customers for over 20 years. We are a privately held American corporation created to provide high quality and highly efficient integrated services to meet documentation needs. By utilizing The Transcription Center, Inc., customers can minimize the time, expense and overall costs associated with documentation, and focus their time on interacting with patients while providing high quality medical records for their peers and patients.