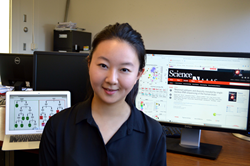 Single-nucleus transcriptomics reveals neuronal subtypes in human brain
(PRWEB) July 07, 2016
A June 23rd publication in the Journal of Science revealed a lot more diversity of the human brain than previously thought. Researchers from the University of California San Diego (UCSD), The Scripps Research Institute (TSRI), and Illumina have developed a new revolutionary approach to analyze and classify thousands of neuronal single-nuclei transcriptomes from the human cerebral cortex. This research has led to the identification of multiple neuronal subtypes in the human brain.
To process and classify the new neuronal single-cell datasets, novel bioinformatics algorithm was developed by Dr. Rizi Ai, a leading postdoctoral researcher in Dr. Wei Wang's lab at the University of California San Diego and the co-first author in the publication. Dr. Rizi Ai's new bioinformatics algorithm "Clustering-and-Classification" was able to identify 16 new neuronal subtypes from six Brodmann areas in human cerebral cortex. The algorithm is able to sensitively measure the most variant gene expressions at each splitting level and determine the cell subtypes based on the active/inactive genes iteratively.
It is difficult to understand brain functions by looking at different brain regions as a whole. In fact, a lot of heterogeneity is presented at the transcriptomic level. The new single-cell techniques isolated thousands of individual neurons from human brains. Dr. Ai's algorithm captured the transcriptomic variations in neuronal single-cell dataset with a low signal-to-noise ratio. Dr. Ai has called the novel bioinformatics algorithm "Clustering-and-Classification". The algorithm in its infancy has been able to thus far classify 3,227 single nuclei into 16 neuronal subtypes.
Dr. Rizi Ai had this to say when contacted about the new bioinformatics algorithm:
"Our research does not classify cells in to cell types, instead we classify neurons into cell subtypes. Traditional clustering methods are not usually sensitive enough to reveal heterogeneity in cell subtypes. Therefore, I am proud to announce I have developed a new bioinformatics algorithm called "Clustering-and-Classification". This novel algorithm is capable of capturing transcription variation signals from different neuronal subtypes". The new cluster algorithm was able to measure the gene expression activity across the cerebral cortex of a human, genes that are regulated differently among subtypes were characterized and the pattern of gene expression was correlated with functions among neuron subtypes.
The new method to classify single neurons is an important step forward in understanding the diversity of human brain. The results thus far look promising as they were able to compare single neurons and provide the framework to analyze the transcriptomic activity in the brain. This study opens the doors for future studies to look beyond the single neurons in the healthy brain and could be used to identify their alternations in diseases such as Alzheimer's, dementia, Parkinson's disease, schizophrenia, depression, and other neurodegenerative disorders.