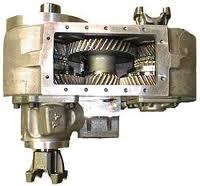 Leaking transfer case fluid is one of the fastest routes to drive train failure
Seattle, Washington (PRWEB) August 06, 2013
The four-wheel drive industry receives development from all major automakers to expand upon the off-road capabilities of produced vehicles in North America. Drive train repairs can often be required to fix leaks in the system causing fluid to dissipate. The TransferCasesforSale.com company is now providing transfer case leak solutions to owners of trucks at
http://www.transfercasesforsale.com/transfer-case-repair.
This company has added refurbished case assemblies that are now constructed by technicians by hand to repair any leak issues that exist in used units.
This reconditioning effort is partly due to upgrades in machinery and training to provide units that are comparable with original case assemblies produced by licensed companies.
"Leaking transfer case fluid is one of the fastest routes to drive train failure," a rebuilding expert from the Transfer Cases for Sale company said. The gears, chains and couplers that are used inside of assemblies require fluid for lubrication that when dried out deteriorates these parts.
The leak repair solutions provided with the recycled units for sale includes units for most off-road vehicle brands. Each reconditioned case for Ford, Dodge, Chevy, Jeep and Toyota is packaged with a generous limited warranty offer that is included without charge to truck owners.
"We're offering used and rebuilt assemblies as way to improve the quality and lifespan once case units are installed," the specialist added.
The complete company inventory is now searchable through tools published on the TransferCasesforSale.com website. The integration of the immediate distribution of pricing is set in place to deliver information during and after business hours have ended for this company each day.
New updates to inventory, modifications and deletions can now be tracked by consumers who are following the posted changes by this company online at http://www.transfercasesforsale.com/transfer-cases online.
About TransferCasesforSale.com
The TransferCasesforSale.com the company website was first built for consumer purchases in 2009. This company has since expanded in 2013 and plans for greater improvements in 2014 are currently underway. Consumers use this company to find discounted 4x4 case assemblies used in foreign and domestic motor vehicles. The TransferCasesforSale.com company specialists provide more than one option to each buyer searching for a replacement case assembly. Features like free shipping and limited warranty packages are now included for all website sales or telephone processed orders.