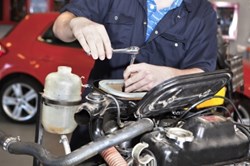 Ford, Dodge, Chevy, Jeep and Toyota makeup a large portion of the current rebuilding efforts that we've undertaken this year
Green Bay, Wisconsin (PRWEB) August 06, 2013
Off-road vehicles have increased in production due to the popularity of sport utility vehicles and medium-duty pickup trucks in the North American market. These vehicles require the use of transfer case units to engage the four-wheel drive systems. The TransferCasesforSale.com company is now supplying transfer case service for rebuilds at http://www.transfercasesforsale.com/transfer-cases online.
"Our rebuilding facility is now state of the art with tools and technologies," said a rebuilder for the Transfer Cases for Sale company.
The mechanical and electronic control that is required for proper case assembly requires periodic maintenance and review to ensure the accuracy of the 4x4 system.
Servicing used case assemblies is one way that is now offered in the automotive industry to produce units that can be compared to a new unit purchased from automakers.
The cleaning, evaluations and installation of brand-new parts are some of the new processes that are offered by the TransferCasesforSale.com company experts during when rebuilding company units for sale.
"Ford, Dodge, Chevy, Jeep and Toyota makeup a large portion of the current rebuilding efforts that we've undertaken this year," the rebuilder added. Providing a national resource that buyers can depend on for quality 4x4 units has been the goal of this company since its online inception in the year 2009.
One new incentive coupled with the rebuilding technologies that are currently applied for each automaker brand in stock is the issuance of a warranty protection policy. While some service companies provide rebuilding work, warranties can often be limited based on the age of each unit that is refurbished.
A two-year parts warranty to cover the essential parts that could fail with excessive wear and tear are now covered inside the free of charge warranty policies that are included with all sales. These reconditioned warranty details are provided when sales transactions are made.
About TransferCasesforSale.com
The TransferCasesforSale.com company now refurbishes and sells quality transfer case assemblies for American and foreign made vehicle brands distributed in the United States. The reconditioning facility in use by this company has improved the actual lifespan and quality for all case assemblies sold. The TransferCasesforSale.com company promotes its available inventory from its website and through media channels online to attract consumers seeking the pricing and better customer service for each processed order. Price generation is now handled by this company through its electronic quotation system installed online.