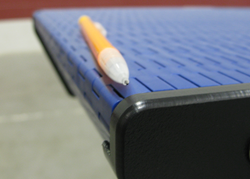 Muskegon, MI (PRWEB) June 04, 2014
Dynamic Conveyor Corporation announces the addition of a knife edge transfer conveyor to its line of modular conveyors for the manufacturing industry. Dynamic Conveyor offers sustainable conveyor systems that can be reconfigured when needs change.
An alternative to dead plates or roller transfers, the DynaCon mini belt transfer conveyor offers a smooth and consistent conveyor transport of products as small as 3/4" from conveyor to conveyor. A mini plastic link style chain is used to provide a stable base for smooth parts and product transitions. Unlike roller transfers, the DynaCon knife edge conveyors utilize positive sprocket drive and plastic link style belting to eliminate tracking problems, slippage and edge damage. The DynaCon transfer conveyor is available in widths ranging from 4" to 36" for small part handling. The mini belt transfer conveyor utilizes energy efficient motors. Both single and variable speed motors are available, with speeds up to 100 feet per minute to transfer product. The DynaCon knife edge conveyors also provide the user with the ability to increase or decrease product spacing.
The DynaCon transfer conveyor works well with the DynaCon Modular Conveyor System with its plastic link-style belting.
Dynamic Conveyor - based in Muskegon, MI - is the only conveyor manufacturer offering multiple conveyor lines and products that can be configured and later reconfigured like Lego® building blocks. Dynamic Conveyor's products are used in a wide variety of manufacturing industries for conveying small to medium parts and products. The company has been providing innovative conveying solutions for more than 25 years.
For more information, including videos, on the DynaCon transfer conveyor visit http://www.DynamicConveyor.com or call 1.800.640.6850.