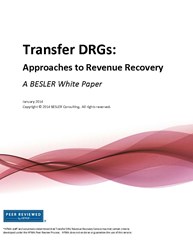 Princeton, NJ (PRWEB) January 29, 2014
BESLER Consulting today announced the publication of a white paper focused on Medicare Transfer DRG underpayments. Titled "Transfer DRGs: Approaches to Revenue Recovery," the white paper reviews the history of Transfer DRGs, why underpayments occur and what hospitals can do to recover them.
Under Medicare reimbursement regulations, when certain patients are discharged to post acute care, the discharging hospital is paid at a reduced rate. In some cases, this reduced payment is not justified by the actual post-discharge care. These underpayments are not reflective of coding or billing errors on the part of the provider, but more commonly result from a change in the planned course of treatment subsequent to discharge.
BESLER's review of the most recently available Medicare inpatient discharge records determined that Medicare transfer reimbursement rules reduced reimbursement to hospitals by over $3.6B. Based on BESLER's calculations and experience in identifying underpayments, the company estimates that approximately $330M in underpayments related to Transfer DRGs occur each year.
BESLER utilizes proprietary technology to efficiently work through the identification and follow-up tasks required to validate the accuracy of post-acute care transfer billing and to ensure compliance. After undergoing a rigorous review, in 2013 BESLER's Transfer DRG Revenue Recovery Service was awarded the "Peer Reviewed by HFMA®" designation by the Healthcare Financial Management Association *.
"We're pleased to publish this Transfer DRG white paper," said Jonathan Besler, BESLER's President and Chief Executive Officer. "We're committed to providing educational resources to the healthcare industry, and this white paper is just one in a series that we intend to release this year."
To download a copy of Transfer DRGs: Approaches to Revenue Recovery, visit: http://www.besler.com/transfer-drg-white-paper/.
About BESLER Consulting
For over 25 years, BESLER has helped hospitals recover otherwise lost revenue, increase reimbursement, ensure compliance, improve efficiency and reduce costs. BESLER's deep domain experience in revenue cycle, reimbursement, compliance and unmatched software solutions has resulted in more than one billion dollars of additional revenue for our clients. For more information, visit http://www.besler.com.
*HFMA staff and volunteers determined that this service has met certain criteria developed under the HFMA Peer Review Process. HFMA does not endorse or guarantee the use of this service.