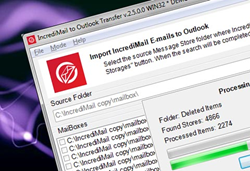 First IncrediMail to Outlook software supporting the newest IncrediMail 2.5 format.
San Diego, CA (PRWEB) May 19, 2014
GlexSoft, a leading developer of data conversion tools for the mainstream market, releases IncrediMail to Outlook Transfer, an ultimately powerful email conversion tool and the first solution supporting the latest IncrediMail 2.5 data format. Combined with a highly advanced data conversion engine, the new product delivers excellent results with IncrediMail data files of any size and structure. http://www.outlooktransfer.com/
The key problem of IncrediMail to Outlook transfer is the very specific method that IncrediMail uses for storing data. Unlike Microsoft Outlook, IncrediMail 2.5 stores different types of data in different containers and locations: the contents of emails are saved as files of its proprietary *.iml format, the folder structure is stored in a separate database called Message Store, and attachments are kept in a separate folder on the user's hard drive. All of this makes it nearly impossible to transfer data manually and require special tools for automating the process of data aggregation and conversion. http://www.outlooktransfer.com/products/incredimail-to-outlook-transfer/
IncrediMail Transfer is fully equipped for locating all IncrediMail messages, associating them with attachments and recreating the folder structure, with the exception of the original folder nesting order. However, users can easily rearrange folders and restore the necessary nesting order in Microsoft Outlook using drag-n-drop. In case the folder structure database is not found or is heavily corrupted, the tool will still perform the transfer to a single user-defined folder. http://www.outlooktransfer.com/incredimail-to-outlook-transfer-license/
Some of the key features of the new IncrediMail Transfer application include:

Outstanding conversion speed
Support of the newest IncrediMail 2.5 *.iml file format (unique feature not available in competing solutions)
Transfer of emails with orphaned attachments to corresponding folders
Import of folder names
Support of 32- and 64-bit versions of Microsoft Outlook
Intuitive and user-friendly interface
Nearly full automation of the IncrediMail to Outlook email migration process (users need to make a few confirmation clicks only)
The software has minimal system requirements, requires no intermediate data conversion steps and reduces the complex process of data migration to a few simple steps that can be accomplished by users with no prior experience of data conversion using similar tools.
"We are excited to be the first company to release an IncrediMail to Outlook transfer tool that supports the newest IncrediMail data format introduced in version 2.5," commented Gordon Lex, Senior Product Manager at GlexSoft. "Unfortunately for many users, the latest update of IncrediMail to version 2.5 rendered the majority of existing tools useless, and we were the first to address this problem with our new IncrediMail to Outlook transfer solution."
A free trial version of the program can be downloaded from the official website of GlexSoft: http://www.outlooktransfer.com/free-trials/