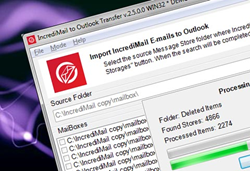 unmatched performance and quality of email migration coupled with the ultimate level of user-friendliness.
New York, NY (PRWEB) June 23, 2014
GlexSoft, a recognized expert in the field of email conversion, is proud to present the latest achievement in data migration technologies – IncrediMail to Outlook Transfer. This compact tool uses the latest algorithms to deliver ever-excellent results with files of any version, size and condition, and requires no previous experience with similar products and email migration in general. http://www.outlooktransfer.com/products/incredimail-to-outlook-transfer/
IncrediMail email transfer software is a uniquely well-rounded tool that helps users of any skill level to convert their entire IncrediMail mail archive from its proprietary format to PST in nearly no time. This new product encompassed the best qualities of its competitors and addresses the needs of the company's customers voiced before and throughout the development period. http://www.outlooktransfer.com/products/
Featuring a sleek wizard-based User Interface, it is equally suitable for novices and IT veterans looking for a cost-efficient and reliable method of converting emails from IncrediMail's IMM and IML formats to Outlook. The program offers users a host of convenient and time-saving features, including the automatic location of source mailbox files, conversion of message encoding, transfer of email attachments, and a possibility to select particular items for conversion on one of the wizard's screens. http://www.outlooktransfer.com/how-to-transfer-incredimail-emails-to-outlook/
The program dramatically facilitates the conversion of IncrediMail messages thanks to its powerful data analysis core and ensures that their content remains completely accessible and fully readable after the transfer. IncrediMail to Outlook Transfer is ready for converting IncrediMail emails right outside the box, which saves users the trouble of searching for and downloading any additional components or tools. The software can be used in Windows of all major versions, including 32- ad 64-bit editions, and comes with a fully functional demo version available for download from the company's website. http://www.outlooktransfer.com/free-trials/
From the financial standpoint, the use of this IncrediMail to Outlook conversion tool is capable of saving users an ample amount of money that would otherwise have been spent on expensive specialized data migration or email recovery services. Besides, users performing data conversion on their own can be sure that their confidential information will never be shared with a third party.
"We welcome the addition of IncrediMail to our line of products and are proud to state that, according to our tests and our beta-testers' feedback, this compact tool is by far the best solution of its type on today's market," noted SEO of GlexSoft. "We always keep our eyes open and are always ready to respond to our users' needs, and IncrediMail Transfer has everything necessary to help in the most complex data migration cases."