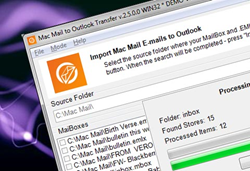 Program enables users to move their entire Mac Mail archive to Outlook in several quick steps.
New York, NY (PRWEB) August 11, 2014
GlexSoft, the developer of a growing line of data conversion tools, releases Mac Mail to Outlook Transfer, a new product that dramatically facilitates the process of converting Mac Mail message archives of any size to Outlook. Fueled by the company's proprietary engine, the program yields outstanding performance and accurately converts message encoding from the Mac format to that of Microsoft Outlook. http://www.outlooktransfer.com/products/mac-mail-to-outlook-transfer/
Mac Mail to Outlook Transfer is a mass product designed and developed for a very wide audience comprised of users with and without experience in data migration and conversion. This is why its interface contains a bare minimum of control elements and settings that may confuse novices and people who have never dealt with such software. http://www.outlooktransfer.com/how-to-transfer-mac-mail-emails-to-outlook/
Thanks to nearly full automation of the conversion procedure, the only manual operation that is required from the user is the physical transfer of the source MBOX and EMLX files from the Mac to the destination PC using any available means: an external hard drive or USB stick, a cloud, a LAN, an optical disc, etc. Mac Mail to Outlook Transfer tool offers best in class performance, quality of email conversion and stability, regardless of the size of the source files and even their condition – the program is capable of extracting messages from damaged Mac Mail MBOX files. http://www.outlooktransfer.com/free-trials/
Thanks to its simple and straightforward user interface, the entire migration procedure is effectively reduced to a few simple steps and confirmation clicks. The program is fully compatible with all versions of the MBOX format and MS Outlook (32- and 64-bit versions), which makes this product a universal tool for modern and older systems, regular users and IT professionals facing email migration tasks on a regular basis. http://www.outlooktransfer.com/mac-mail-to-outlook-transfer-license/
For the end user, Mac Mail to Outlook Transfer translates into an ability to perform full-scale Mac Mail to PST conversions anytime, anywhere, without having to look for and pay to specialized services. The program requires no additional components or libraries, and is completely ready for data conversion after installation.
"We are happy to finally give Mac users a tool that will make their migration to the PC world a lot easier. A lot of people postpone it for as long as possible, since they expect it to be a painstakingly complex and confusing process," explained CEO of GlexSoft. "We are now offering a tool that completely changes this situation and offers the best quality and performance on the market. Mac Mail Transfer is an absolute must-have even for a one-time migration, let alone regular ones taking place in large companies."
The demo version of Mac Mail Transfer is available for download on the official website: outlooktransfer.com