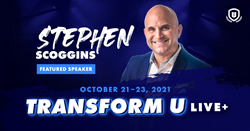 Get ready to ignite every area of your life and take it to the next level. Transform U Live is a 3 day live event that helps you eliminate confusion, gets you unstuck and teaches you how to build your dream life.
GARNER, N.C. (PRWEB) October 15, 2021
Today, Stephen Scoggins is announcing the official launch of Transform U Live - a massive event in Personal Development of this year. Transform U Live is designed to give a playbook, and even more importantly, the courage to use it. In order to create unstoppable momentum it's important to understand one thing: every day spent without following a proven roadmap for success, is another day personal dreams and aspirations are slipping through the cracks.
"You are not alone in the fight and Transform U Live is here to teach you a complete playbook that takes the fear and uncertainty out of building a life you love." - Stephen Scoggins
Stephen Scoggins, founder of The Journey Principles Institute is an entrepreneur that has paved a path for long term success in his countless endeavors within the business world. Encountering unique adversities from a young age led him to muster the courage to build a diligent work ethic that would guide him in all areas of his life. Stephen is a best-selling author, award-winning entrepreneur of multiple businesses with multi-8-figure revenues, a motivational speaker, and the creator of the proprietary Life-Mastery Framework affectionately named, "Transform U."
"Who Should Attend this Personal Development Event?"
1. An emerging leader who is hungry to create a legacy that outlives them.
2. Entrepreneur or professional who knows that true success isn't measured in dollars but in using resources to make a difference.
"What Kind of Value Can Attendees Expect to Walk Away With?"
1. An in-depth understanding of fundamentals that transform everything around them
2. A complete strategy for how to scale your life, business, and impact
3. Insight into how individuals got to where they are and how to use it catapult themselves forward
4. Clearly defined immediate action-steps to get the most leverage
5. An actionable plan to build a legacy that outlives them
"Why Transform U Live is so Effective"
The reason is simple. The audience. The reason other programs may not have worked for people is that they do not take into account their personal backstory, challenges, adversity, setbacks, or their specific desires, wants, and dreams.
The reason Transform U Live has been so successful for their students is that they teach how to build the program with the individual in mind and give them the courage to use it.
"What People Have to Say About Transform U Live"
"I can't say enough about how Transform U has radically changed me. I was nervous about the cost at first, but now that I've been through the process, the benefits I've reaped have far outweighed any fear I had originally. There is just something special about learning from those that have already been there." - Courtney Mitchell.
"When you are operating in your gift, truly, truly operating in your gift, it's an awesome thing to live even the smallest portion of your true purpose and this team can help you finally get there." - Les Long
"I really thought I could build a meaningful life on my own, after all, I had two decades of experience. There are so many things I was missing to truly make that happen. It can be hard to have the humility to admit you need clarity and direction but once I did, I'm finally loving the life I am living." - Trey Wilkins
Everyone Deserves More
Make no mistake, we all want freedom... Freedom to choose our own path, freedom to prosper, but more than anything, freedom to live a deeply passionate and meaningful life.
The problem is, despite all the grinding, pushing, and pursuing, most of us never fully capitalize on the opportunities that lay before us, and most of us never end up creating an extraordinary life.
And, the crazy part is, it happens simply because we don't know any better. Achieving success in life does not have to be overly complex, nor does it have to consume.
The most successful people on the planet all use a deeply customized playbook in order to achieve amazing results. Great playbooks always have three core anchors: clarity, direction, and intentional focus.
If anyone's life is at a crossroads and they want to take the ultimate path towards fulfillment, then don't let another day go by stuck in "What if '' and lean into "What could be".
Transform U Live is the only immersive event that takes a step by step process of road mapping next steps towards a life that makes everyone smile instead of making them frustrated.
Reserve your seat today while they last and get your tickets today: