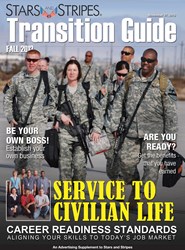 Transitioning back into a civilian lifestyle takes a significant amount of planning.
(PRWEB) December 05, 2013
The Stars and Stripes Transition Guide provides military men and women the opportunity to jump-start their transition into civilian life. From setting up an eBenefits account, to making an informed decision about using GI Bill benefits, to taking advantage of opportunities available before, during and after transition, the Guide provides the information essential for staying ahead of the current labor market.
In a collaboration with the key stakeholders in redeveloping the Transition Assistance Program (TAP) — now known as Transition GPS — Stars and Stripes brings together information from expert resources, such as the Departments of Defense, Labor and Veterans Affairs, the Small Business Administration and other organizations, in order to provide crucial guidance to servicemembers who are working to meet the requirements of their Career Readiness Standards.
Stars and Stripes Transition Guide Editor Nicole Rice explains, "Transitioning back into a civilian lifestyle takes a significant amount of planning. In order to stay ahead of the game, the Department of Defense is incorporating touchpoints, known as Career Readiness Standards (CRS), into every servicemember's Military Life Cycle over the next calendar year, and has already put them into place for those currently in the process of transitioning out of active service. These CRS can serve as benchmarks that will help active-duty military members stay ahead of the current job market and enjoy a smooth and successful transformation to Veteran status.
"Our mission is to provide important news and information to the military community. We feel this collaboration with the organizations directly involved in the TAP helps us pinpoint the information necessary to achieve the Career Readiness Standards and gets the best intelligence possible directly into the hands of those who need it most."
The Transition Guide began distribution in print on November 27, 2013, in Stars and Stripes newspaper editions overseas and on selected military bases in the United States. It is also available online (http://www.stripes.com/special-pubs/transition-guide).
__________________
Stars and Stripes reports on military matters to the global U.S. military community. It is the only independent source for news and information operating from inside the U.S. Department of Defense. Editorially independent of any outside interference and influence, Stars and Stripes provides commercially available U.S. and world news and objective, factual staff-produced stories relevant to the military community it serves.
In addition to providing news in print, Stars and Stripes offers its unique reporting on Stripes.com, through its Tablet Edition app and smartphone apps for iPhone and Android, and through subscription to free email newsletters.