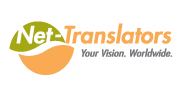 Companies wanting to successfully penetrate new overseas markets need to communicate properly in the language of their prospects and clients.
Cupertino, California (PRWEB) June 30, 2015
Net-Translators, an industry leader in translation, localization, internationalization and multilingual testing services, announced today the launch of its Translation Quality Assessment Service. The new service targets companies that have been translating content in the past but are not 100% sure about the actual quality of the translations. Additional information may be obtained by visiting: http://www.net-translators.com/translation-quality-assessment-service.
The recent economic downturn, hyper-competitive markets, shrinking profit margins and reductions or cuts to translation budgets have forced many buyers of translation services to select the cheapest vendors or to perform the translations in-house. As a result, these companies had to assume the risk that their translated assets were potentially subpar.
"This Catch-22 has left many companies around the globe with less than high-quality translations," notes Gal Yissar, CEO at Net-Translators. He adds: "Companies wanting to successfully penetrate new overseas markets need to communicate properly in the language of their prospects and clients. For example, an unprofessionally translated website could include inaccurate and confusing content, typos, truncated sentences, culturally offensive images, etc. It's all about first impressions."
Net-Translators' Translation Quality Assessment Services covers any translated assets, including software, website, web app, help system, user guide, technical document, etc. The assessment checklist includes 40+ bug types and covers each category where problem types can occur:

Linguistic testing - Typographical, grammatical, cultural-appropriateness, and regional settings.
Cosmetic testing - Text truncation, line breaking, proper encoding for screen display, accent character spacing, and more.
Functional testing - Compatibility with localized code pages, text input acceptance, menu functionality, string manipulation, etc.
All of the testing is performed at Net-Translators' in-house testing center and the service is available for over 30 languages. In addition to the company's human driven quality assurance tasks, Net-Translators' QA methodology also includes the use of tools that automatically check adherence to glossaries, terminology consistency and many other issues that could negatively impact the quality of translated assets. For additional information or to request a quote, please visit: http://www.net-translators.com/localization-testing.
About Net-Translators (http://www.net-translators.com)
Net Translators is a leading provider of translation, localization, and multilingual testing services in more than 60 languages. For over a decade, Net-Translators has helped software developers, medical device manufacturers and hardware companies prepare their products and services for worldwide development.
The company's service portfolio includes the language services needed to localize and test software, medical devices, and websites including localization of user interfaces, online help, technical and marketing materials, and more. Net-translators' one-of-a-kind Multilingual Testing Center offers professional testing staff and a dedicated localization testing environment for products of all kinds. Net-Translators is certified ISO 9001:2008, ISO 13485:2003, and EN 15038:2006, and specializes in translation of materials for compliance to international regulations. In 2011, 2012, 2013, 2014 and 2015 Net-Translators was ranked No. 1 in Translation Services by TopTenREVIEWS.