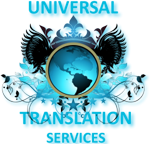 We are open 24 hours a day!
Aventura, Florida (PRWEB) September 01, 2015
Situations requiring fast, easy-to-understand business and personal communication across language barriers and international borders seldom arise at the most convenient time for everyone involved. These occasions highlight the value of a professional translation service which is always ready to help.
Universal Translation Services has real people available to handle any translation assignment at any time of the day or night. The company utilizes their resources built with more than fifteen years of translation experience in Europe, combined with expanded service covering all USA time zones, to provide certified translation service at affordable rates. The rates are the same 24/7 with no increases for weekend or rush projects.
Universal Translation Services operates flexibly while maintaining live connections with its team of over 25,000 professional translators. At Universal Translation Services high technology and human expertise work together to deliver an efficient and accurate translating process.
One of the most popular areas of service for Universal Translation Services is Spanish translation. This is very important to the United States business community with its increasing need for accurate English to Spanish translations.
Translation of documents of all types is in demand as is the more recent service of website translation. With the growth of e-commerce many companies are experiencing a need for their products and services in multiple countries. It is a distinct advantage to have one's website available in the languages of all the countries it serves as well as in English. There are automated website translation scripts on the market, but the quality of the translation and the ability to properly localize the content to the appropriate market is flawed. USA's expert website translators will properly localize each website for its intended target.
A potential client who is not certain which translation service to choose is invited to ask for a free sample of Universal Translation Services work in order to form their own opinion of the accuracy and quality. Follow the directions on the website to receive a 150-word translation at no charge. If the prospective customer is pleased with the sample translation, a request for quote for a specific job can be sent via e-mail or by calling the company. All translations are done by qualified native translators.
Universal Translation Services works in over 80 languages, including all the major European, Asian, American, and Middle Eastern languages. They have received comments from satisfied customers such as these:

"My primary clients are from different places of the world, and that is why I am always open to foreign languages. In the business world time is money, and I cannot afford to waste any more time with pricey translation software or to have an in-person contact with a translation company. The perk of always having a translator available is the work efficiency. Best service ever and at unbelievable prices"
"I always thought that I don't need a translator, but when I almost lost a big client because of a translation misunderstanding, it got me thinking. Now my opinion has turned 180 degrees. After I had started to rely on this translation company, I realized that the service system was very prompt and accurate. They did not miss any details. It was phenomenal! "
For more information, visit http://www.universal-translation-services.com. Headquarters for the USA is located at 20801 Biscayne Boulevard, Suite 403, Aventura, Florida 33180, phone 1-844-wetranslate (1-844-938-7267).