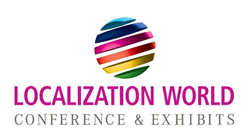 To our clients, we are a textbook example of disruptive technology," said Ray Schuhmann, Founder and CEO of Kinetic theTechnologyAgency.
Louisville, KY (PRWEB) October 22, 2014
Kinetic theTechnologyAgency, a global leader in enterprise translation management software & services, announced today that it has been chosen as a guest speaker at Localization World 2014 in Vancouver, Ontario, British Columbia, Canada.
Localization World is a conference dedicated to translation and localization professionals worldwide. In its 11th year of existence, Localization World has managed 21 events in nine countries across the globe.
The theme of this year's conference is disruptive technology. Considered a disruptive technology provider, Kinetic's software & services were built with one purpose in mind: to change the status quo of corporate translation management. By adding unique features such as a vendor performance ratings platform and a bid system, The Globalizor™ changed the way companies approach the management of their massive translation needs.
"Of course some feathers were ruffled along the way. The trusted LSPs [language service providers] of our original clients were in shock when they realized that they were now getting report cards for their services, and they would now have to compete for each project," said Scott Carothers, Senior Globalization Executive at Kinetic theTechnologyAgency.
Empowered by the data required to validate translation quality and pricing, corporate translation managers were now able to choose the right LSP for each project, based on delivery timing, translation quality, and cost-competitiveness.
"To our clients, we are a textbook example of disruptive technology. Our software illuminates the 'black hole' of translations and our clients no longer face the typical translation problems such as no validation on quality or pricing," said Ray Schuhmann, Founder and CEO of Kinetic theTechnologyAgency.
Kinetic Senior Globalization Executive Scott Carothers presented "Localization and your Global Marketing Content: Do you Have a Process to Optimize the Quality?" at the American Marketing Association's annual conference on October 2nd. Additionally, Carothers presented "Managing the Translation Process: A Peek Behind the Curtain" at LavaCon, a conference similar to Localization World.
Kinetic's Globalizor™ software has processed thousands of large projects, facilitating the translation of more than 200 million words in more than 40 languages. To fulfill the needs of clients across the globe, Kinetic added 39 new team members in 2014.
About Localization World
Localization World is the leading conference for international business, translation, localization and global website management. Attendees are the people responsible for communicating across the boundaries of language and culture in the global marketplace. With a specific emphasis on global business, the conference provides an opportunity for the exchange of high-value information in the language and translation services and technologies market.
About Kinetic theTechnologyAgency
Kinetic theTechnologyAgency provides the world's only true globalization platform and is the only firm working exclusively on the translation buyer's behalf to improve translation quality, accelerate time to new markets, significantly reduce translation expense, and provide valuable and illuminating business intelligence. Kinetic's proprietary technologies provide an integrated system for content and translation management, publishing, personalization and delivery to generate global sales revenue faster while simultaneously reducing the complexity and expense of going international.