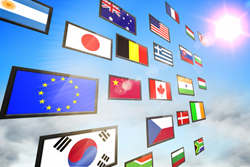 (PRWEB) September 30, 2014
With a multitude of popular languages mastered by the outsourcing experts and a reputation for efficient and competitively priced data entry services, brand new translingual offering from DataEntryOutsourced will endow businesses with the time and resources they need to compete in the global markets.
Often in today's global marketplace, having in-house staff speaking two languages is just not enough. DEO has a dedicated workforce for every major language in the world, breaking down barriers and creating access points into new markets for businesses everywhere. Using experience gathered over 12 years in the industry, DataEntryOutsourced has developed a service that handles even the most sophisticated translingual data entry tasks with ease, delivering top-class results at minimal cost.
A spokesman for DEO says, "The digital world we inhabit has meant that having an in-house translator for one or two languages is no longer enough. The internet allows us to have consumer reach beyond what we ever imagined – but businesses can only capitalize on these global opportunities with high-quality trans-lingual data entry services. We're thrilled to launch this brand new service, which will help businesses large and small to survive and thrive in a competitive economic environment, making the most of their data and utilizing it to their own advantage."
The experts at DEO maintain there are four main strands of data management that must be mastered in order for a business to make the most of the data they accumulate: data entry, data mining, data processing and data extraction. DEO can outsource this type of time-consuming work to extensive workforces, all highly skilled in their chosen specialism. Whether they're conducting database development and migration activities, or processing data like credit card transactions or surveys, the efficient and capable workforce can take care of all data entry needs – in any of the world's languages.
Of course, the entire service means that these tasks can be carried out without hiring a single employee. Forget the lengthy recruitment process and the upheaval that comes with welcoming new employees - outsourcing gives businesses access to multilingual specialists who can carry out complex tasks with ease at a remote location. The method is cost-effective, and clients have a flexible and reliable team at their disposal, ready to save them money on all elements of data entry.
The service is perfect for eCommerce owners who are looking to break into new markets, multinational corporations with masses of data to translate, or even data management companies that require backend support. DEO's new multilingual data entry service is set to demolish all language barriers and make communication and data gathering simple and streamlined for hundreds of businesses.
To find out more about DEO's range of data entry services, visit the website: http://www.dataentryoutsourced.com/