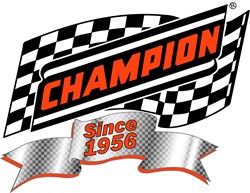 Champion Oil Posts Technical Bulletin On The Transmission Fluid "Conversion" Myth
(PRWEB) October 30, 2013
An automatic transmission fluid must lubricate gears and clutches, act as a hydraulic medium, have proper frictional properties to ensure smooth shifting and must disperse contaminants and sludge. While most automotive fluids retain backwards compatibility with older equipment, equipment manufacturers have begun designing transmission, which requires different types of fluid or less viscous fluids than those required for older vehicles. This has resulted in headaches for transmission service shops struggling to handle a more diversified inventory demand.
The theory behind transmission top treats which claim to "convert" an older ATF into fluid meeting the newer specifications is that by adding more friction modification, the frictional profile of the fluid can be corrected for the newer clutch plate friction materials. However, clutch friction is only a tiny part of the demands placed on an ATF. While further modifying the friction of a fluid may provide an instantaneous difference in shift smoothness, it will not bring a fluid to a new specification. Many low-quality friction top-treat products have limited life spans and friction modifiers degrade long before the next service interval. This can lead to early shift harshness and premature clutch wear.
In reality, modern ATF specifications have higher oxidation and thermal stability requirements and more stringent requirements for cold-flow, shear stability, and dispersancy. Proper fluids are designed for a longer service interval and better performance. Friction modifiers are highly stable to thermal degradation and are designed to last throughout the service intervals. Also, these fluids are typically blended with or entirely made from synthetic base oils to improve cold-flow and withstand the higher temperatures found in modern ATF sumps.
In order to ensure proper performance of a transmission fluid throughout the entire service interval, the proper fluid should be chosen and the use of so-called conversion fluids should be avoided.
About the company: Champion Brands, LLC, is a globally recognized industry leader in specialty lubricants for over 55 years. Champion Brands, LLC produces and blends over 300 products including fuel, oil, engine additives, and lubricants for the automotive, racing, heavy truck, agricultural, industrial, and specialty markets. For more information about Champion Lubricants contact your nearest Champion distributor, or call Champion at 800-821-5693 or 660-885-8151. Champion Brands, LLC; 1001 Golden Drive, Clinton, MO, or go to http://ChampionsUseChampion.com.