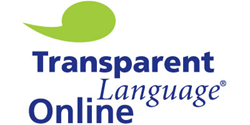 We have spent years evolving our product for people who care about language and it's great to have that recognized.
Prince Frederick, MD (PRWEB) December 23, 2015
Recorded Books, Inc. announced that partner, Transparent Language Inc., a leading provider of language-learning technology, has received a platinum award in LibraryWorks' second annual Modern Library Awards (MLAs).
The MLAs were created to recognize the top products in the library industry in a truly unbiased format. Products were submitted in the fall using a simple application, and then were posted on a private site with an enhanced description and attendant materials. These products were batched into small groups and sent to the LibraryWorks database of more than 80,000 librarians at public, K–¬12, academic, and special libraries. Only customers who had experience with these products in their facilities were permitted to judge the products.
Each judge scored the product on a numeric basis from 1–10 on a series of questions regarding functionality, value, customer service, etc.
"We are excited to have received the Platinum Award for Transparent Language Online," said Michael Quinlan, CEO of Transparent Language, Inc. "We have spent years evolving our product for people who care about language and it's great to have that recognized."
Transparent Language Online is Transparent Language's premier language-learning system for libraries, schools, corporate organizations, and independent learners. Earlier in 2015, a major update to Transparent Language Online was released, adding new features, including:

Intuitive Interface: A new user interface optimizes screen space and allows for easier navigation throughout the program.
Improved Speed: Users can enjoy enhanced performance with HTML/JavaScript frameworks.
Greater Mobility: The program is now compatible and accessible directly from a Web browser on any Internet-connected tablet.
Practice Activities: Users can now select the content they want to learn and the activities they want to use, allowing them to focus on their specific needs and goals.
Enriched Guidance: The new Learning Path gives users a place to start, but also allows them to customize their experience by adding and removing content from Transparent Language's extensive collection of materials.
Better Insight: The updated Learned Items system helps learners track their progress and delivers automatic prompts when it's time to review.
Specially configured versions of Transparent Language Online—featuring support for over 100 languages—are available for educational institutions, corporations, and public libraries. Transparent Language Online for independent learners is available from the company's website. Transparent Language Online is available to public libraries through its partner Recorded Books, Inc.
###
To view Transparent Language's original press release, click here.
About Transparent Language, Inc.
At Transparent Language, we leverage our expertise in technology and in the research and practice of language learning and teaching to build unique capabilities for use by US Government agencies and organizations, as well as hundreds of public libraries, thousands of schools, and millions of individuals. We care about all languages, regardless of commercial value. We believe that language technology needs to work for all courses and curricula, not just a few courses. It needs to benefit not only individuals, but entire programs. We believe that great language technology not only changes the user experience; it transforms the economics, logistics, and reliability of language learning.
About Recorded Books, Inc.
Recorded Books is the largest independent publisher of unabridged audiobooks and provider of digital media to consumer, retail, professional, school, library and infotainment markets. The company owns an exclusive catalog of more than 22,000 audiobook titles narrated by professional, award-winning actors. Recorded Books provides digital audiobooks and eBooks, as well as other compelling third-party content, including digital magazines and films, through its proprietary RBdigital Gateway platform. The company operates in the United Kingdom through its W. F. Howes subsidiary and in Australia through its Wavesound subsidiary. Recorded Books, founded in 1979 and headquartered in Prince Frederick, MD, acquired both Tantor Media and HighBridge Audio in 2014. For more information, visit http://www.recordedbooks.com.