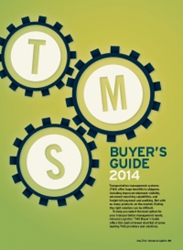 What we've seen with our TMS, the Cerasis Rater, is that our customers are not only more efficient and have happier customers, but are also realizing reduced resources needed to process & manage transportation departments as they grow & ship more freight.
Eagan, MN (PRWEB) August 20, 2014
For the second year in a row, the Cerasis Transportation Management System, the Cerasis Rater, was included in Inbound Logistics' Annual TMS Buyer's Guide. Transportation management systems (TMS) offer tremendous benefits for shipment management, trading partner collaboration, and freight payment. But with so many products on the market, finding the right solution can be daunting. Shippers choosing a TMS must consider numerous options, from cloud-based applications to traditional on-site installations, targeted to freight moving over the road or by rail, in containers or as parcel shipments. To help you select the best option for your transportation management needs, Inbound Logistics' TMS Buyer's Guide offers a best-of-breed shortlist of some leading TMS providers and solutions.
Logistics and transportation managers are tasked with making the movement of freight between trade partners easier, cheaper, and more efficient. Often these managers turn to Transportation Management Systems (TMS) in the smooth and efficient operations of their supply chains for decades. Having evolved significantly over the last 30 years, such systems are typically available as standalone software packages, as part of a larger Enterprise Resource Planning (ERP) solution, or in Software-as-a-Service (SaaS) formats.
Calling TMS "one of the fastest growing enterprise application markets" in its most recent TMS Global Market Research Study, ARC Advisory group says that a whopping 63 percent of companies would see at least a 5 percent increase (23% stated a 10 percent or more increase) in total freight costs if they had to give up their TMS and revert to more manual transportation planning and execution processes. According to ARC, a TMS achieves these savings based on process enforcement, visibility, analytics, and optimization, "with virtually no other supply chain application offering so many different forms of optimization."
Regardless of the technology delivery method, TMS tackles the freight movement puzzle by handling single parcels to bulk commodities and everything in between. In most cases, the solutions oversee the movement of all inbound and outbound freight modes (including intermodal), at the domestic and international level. A TMS' fleet management capabilities are usually focused on the shipper's own transportation assets while its planning and execution functions monitor and track movements involving both inside and outside service providers (such as third party logistics providers or "3PLs").
According to survey respondents in the "Transportation Management Systems" Study by the Peerless Research group and Logistics Management, the top five areas that are important when focusing on a long term logistics strategy are:
1. Maintaining high levels of customer service (96%)
2. Lowering costs (94%)
3. Improving efficiencies and productivity in logistics operations (93%)
4. Attaining the ability to target logistics initiatives that drive business growth (79%)
5. Improving Asset Utilization (74%)
An effective TMS can achieve all of these top 5 desires, and the Cerasis Rater is no different.
"Clearly the market, according to this recent study, is looking at their logistics strategies long term and looking to find tools that match the desires of improvement in these top 5 areas," said Director of Marketing, Adam Robinson. "What we've seen with our transportation management system, the Cerasis Rater, is that shippers are not only more efficient and have happier customers, but are also realizing reduced resources needed to process and manage transportation departments as they grow and ship more freight. Our tagline is true because of our technology: Technology so powerful we can build businesses."
The Cerasis Rater is a web-based TMS, with no installation needed to manage your freight.
The Cerasis Rater has many capabilities, to include:
Eliminate Manual Processes

Process shipments, at any time, 24/7 through the web-based transportation management system.
Upload, store, and maintain address books to maintain accuracy and save time.
Specific commodities are stored for compliance, consistency and ease of use.
Choose from multiple carriers whose rates are negotiated specifically, based on shipping characteristics.
Select carriers based on rate, time in transit and limit of liability, giving shippers 100% control.
Print batch bills of lading, invoices, and labels all with a few key strokes.
Integrate systems data into the Cerasis Rater to eliminate costly data entry errors through automation.
Optimization Capabilities

Consolidate shipments to reduce transportation costs.
Truckload multiple transit stop shipments.
Pool Point distribution functionality.
Multi-Enterprise Application

Consolidate and allocate appropriately the exact transportation costs for multiple locations shipping freight within the organization.
Provides complete organizational visibility of all shipment activity — Inbound, Outbound and Drop-ship.
Integration

Integrate with other supply chain technologies (like Warehouse management Systems and Global Trade Management Systems).
Integrate eCommerce platforms to offer a seamless shopping experience to your customers and end-to-end freight management to include LTL (less-than-truckload) shipping.
Customer Satisfaction Tools

E-mail notification options of shipment details to maintain a high level of communication with all interested parties.
Instant rates – no waiting for emails or sitting on hold.
Freight Accounting Tools and Freight Payment Options

Receive one freight invoice per week, no matter how many shipments per location.
Online billing functionality, eliminating mailed invoices, for shippers to invoice customers faster and decrease accounts receivable.
24/7 online access to freight invoices, reweigh documents, claims, and audit information.
ACH payment option – removing paper checks all together.
Reference numbers from the bill of lading are on the invoice in order to immediately process a purchase order.
Management Tools and Reporting Functionality

Customizable reports showing freight data and activity for better transportation choices.
Management-driven application.
Compliance reporting for cost reduction initiatives.
Vendor/Shipper Compliance Solutions
Seeking a unified view of your supply chain indicators? Then turn to the Cerasis Rater for:

An easily-deployed program.
Comprehensive compliance reporting.
Integrated Managed Transportation Services to include:

Carrier Relations to negotiate all freight rates with multiple LTL carriers
Freight Accounting to include freight payment, freight invoice consolidation, and freight bill auditing
Freight Claims Management
Dedicated Account Management for proactive and continuous improvement
Inbound freight management programs
Reverse Logistics
eCommerce freight shipping solutions
Cerasis is excited that for two years running the editors at Inbound Logistics have included the third party logistics company in the TMS Buyer's Guide for 2014. You can view the entire guide here.