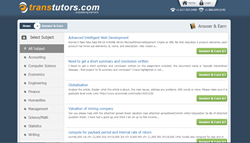 The other day I was really excited to learn about the new feature which lets users answer the questions and get rewarded. - Chris Rogers
(PRWEB) July 30, 2013
If you see a question and realize that you can answer it correctly, you are bound to feel excited. And what if you are paid reasonably for the right answer? It seems like a figment of imagination, doesn't it?
Interestingly, Transtutors, one of the leading homework help websites, is now ready to reward its users who offer suitable explanations for the unanswered questions on the website.
Transtutors has introduced a new feature by the name of 'Answer and Earn', which, as the name suggests, provides online users a chance to earn rewards for giving the right answer to a question. Not only subject matter experts but also students can draw on their knowledge to answer the questions on the website.
Have no misgivings about encountering difficulties in using the new feature. The steps are:
(i) Answer any question (for example a question on Monte Carlo simulation) as per your expertise.
(ii) The answer is submitted for approval.
(iii) If approved, you earn a gift coupon.
Here is what Aditya Singhal and Nishant Sinha, the directors of Transtutors, had to say about the new feature:
"We endeavor to become the world's largest question bank for students. By introducing this new feature, not only we hope to reach our objective faster but also the student fraternity shall stand to benefit from it as their session is about to begin."
It hasn't been long but the new feature introduced by Transtutors has already found a sizeable number of takers who are answering around 100 questions every day. Some of them have even been rewarded to the tune of $800. Interestingly, the participants include teachers and assistant professors as well. Here is what one of the participants, Chris Rogers, had to say about Transtutors' new feature:
"I visit Transtutors off and on for homework help. The other day I was really excited to learn about the new feature which lets users answer the questions and get rewarded. As I have studied Accounts and am pretty good at it, I answered half a dozen questions with ease. Now I am wondering what to do with my Amazon coupons. I hope others benefit from my answers."
Going by the initial response to the initiative, nothing else but success seems in store for the website that is keen on making the lives of students simpler.
Transtutors is now at the vanguard of online education and is playing an active role in revolutionizing it. The company comprises a team of highly qualified professionals and tutors that offers timely solutions to thousands of students all across the globe. With its headquarters in the United States, Transtutors is transcending boundaries through its innovative approach to education.