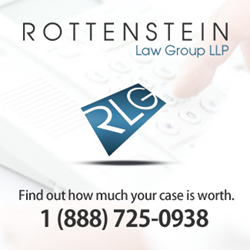 We believe Ehicon and J&J should have to answer for the injuries caused by mesh devices that were supposed to help women, not hurt them.
Rockville Centre, NY (PRWEB) July 07, 2014
As transvaginal mesh lawsuits continue to mount in state and federal courts throughout the country, The Rottenstein Law Group LLP, a national transvaginal mesh law firm acknowledges a group of women who have petitioned the Texas State Attorney General to investigate the Ethicon division of Johnson & Johnson (J&J) for alleged injuries caused by the company's transvaginal mesh devices. The women want the state to recoup money spent by Medicaid and other public health funds on behalf of patients who suffered injuries.
The women who signed the letter include Linda Batiste, a plaintiff who was awarded $1.2 million in damages when a Texas jury ruled that the Ethicon mesh device she was implanted with was defective. Ms. Batiste underwent a surgical procedure that implanted the device as a treatment for stress urinary incontinence (Batiste v. McNabb, No. 12-14350, District Court for the 95th Judicial District, Dallas County Texas (Dallas)). "It actually does feel like a scouring pad in your body," Ms. Batiste told local Houston, Tex. television news station KHOU on June 27. "You can feel in your women parts, what it is. It's there."*
"Our law firm advocates for women who have suffered severe and often permanent injuries caused by these defective medical devices," said Rochelle Rottenstein, principal of the Rottenstein Law Group. "We believe Ehicon and J&J should have to answer for the injuries caused by mesh devices that were supposed to help women, not hurt them."
The latest court documents indicate that there are approximately 19,000 lawsuits pending against Ethicon in a federal multidistrict litigation (MDL) underway in the U.S. District Court for the Southern District of West Virginia (In re: Ethicon, Inc., Pelvic Repair Systems Products Liability Litigation - MDL No. 2327), along with another 5,000 that are pending in a multicounty litigation in the Atlantic County Superior Court in New Jersey (In re: Pelvic Mesh/Gynecare Litigation, No. 6341-10).
The Rottenstein Law Group is currently evaluating Ethicon vaginal mesh claims and encourages anyone who believes they might have cause to file an Ethicon vaginal mesh lawsuit to visit http://www.meshinjurylawfirm.com. The site contains valuable, easy to understand information about the legal process, as well as important information about the severe adverse side effects linked to Ethicon mesh devices. Users of the site can also access a no-cost confidential case evaluation form which will determine whether or not there are grounds to sue Ethicon.
*http://www.khou.com/news/texas-news/Texas-women-injured-by-pelvic-mesh-ask-state-to-investigate--264899351.html
ABOUT THE ROTTENSTEIN LAW GROUP LLP
The Rottenstein Law Group LLP is a New York-based firm that represents clients nationwide in mass tort actions. The firm was founded by Rochelle Rottenstein, who has more than two decades of experience as a lawyer, to represent clients hurt by defective medical devices and medications. (Attorney advertising. Prior results do not guarantee a similar outcome.)
Contact:
The Rottenstein Law Group LLP
Rochelle Rottenstein, Esq.
100 Merrick Road
Suite 226W
Rockville Centre, NY 11570
(212) 933-9500 (office phone)
(212) 933-9980 (facsimile)
rochelle (at) rotlaw (dot) com
plus.google.com/106070664376281033016