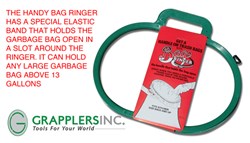 It's really nice to be able to use just one hand to hold a plastic garbage bag open!
Sparks, NV (PRWEB) October 29, 2013
In order to supplement their popular Grappler trash pick-up tool, Grapplers, Inc. has purchased the Bag Ringer Corporation and their trash grabber bag holder products.
Bag Ringer Corporation's trash bag holders are excellent tools for grasping a trash bag single-handedly, freeing up the remaining hand for more work. It increases productivity in workers, and adds comfort and ease to the work day at the same time, preventing excessive stooping and kneeling. Workers with special needs or joint problems can easily accomplish tasks with the aid of a garbage bag opener.
The grabber machine from Grapplers, Inc. is the strongest tool on the market for cleaning up trash. The tool provides 17 pounds of squeezing pressure, which is nearly 10 pounds more pressure than the leading competitor's garbage pick-up tool. Combined with the garbage bag opener acquired through the purchase of the Bag Ringer Corporation, this pair of tools creates the most useful trash clearing duo available. City workers, volunteers, and homeowners can include these tools in their gardening arsenal to make tasks fast and easy.
Lightweight trash bag holders from Grapplers, Inc. hold all sizes of large bags, making cleanup easy at the park, in a yard or even at a creek. They are portable enough to keep in a backpack, and affordable enough to stock up on to keep one in the car,at home, and at the office.
Use of the trash bag holder is simple. Attach the trash bag and fill it as needed. Use the grabber machine from Grapplers Inc. for best results. When finished filling the bag with garbage, remove the tool, tie the bag, and discard it as usual. There is no fuss, no mess, and no awkward two-handed bag-holding.
Individuals who wish to learn more about this trash bag holder and how it can improve their trash collecting duties and other tasks may find out more information at http://www.grapplersinc.com/the-handy-bag-opener/.
About the Company:
Grapplers, Inc. is an award-winning company created by Jay and Bonnie Thiessens. The business provides quality specialty Trash Grabber Bag and Garbage Bag Opener tools that feature modern technology to ensure the best American made products possible. They pride themselves in their superior customer service, friendly staff, and great quality products. Grapplers, Inc. takes their customers seriously and makes it a priority to listen to their concerns and satisfy their needs. They can be reached by going to the website or calling them at (877) 212-5803.