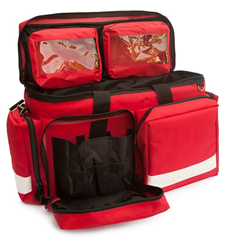 Perfect EMS and trauma bag for the EMT or first responder
Los Angeles, CA (PRWEB) January 27, 2015
A tragic or traumatic event can strike at any time. Imagine driving down a highway in the rain when a car spins out of control. An EMS professional witnesses this event and goes to check on the victim. In the trunk of her car, the EMS professional pulls out a bag with all the proper equipment needed to help save someone before an ambulance gets there and the victim survives because an EMS was prepared with the best tools, equipment and training. When it comes to being prepared, Lifeguard Master knows what an emergency responder professional needs to have on hand when something traumatic happens. Recently, Lifeguard Master has released a new line of trauma and EMS bags so professionals can be the most prepared at any given time.
The most popular bags in the new line are the Ultra EMS Bag, the Professional Trauma Bag, the Large Trauma Bag, the First Responder Trauma Bag, and the Ultimate EMS Backpack. Although these are the most popular, Lifeguard Master offers a wide range of bags, backpacks, kits, and supplies.
The Ultra EMS Bag is great for those who like to stay extremely organized. During a trauma, there is no time to look for a supply, which is why having eight different compartments is so convenient. Any professional can easily organize their supplies so they know exactly where to find what they need. An additional pocket is available on each side of the bag for extra storage along with two removable transparent window pouches that attach to the top flap with Velcro. Created from 600D durable nylon and a reflective white stripe and feet to protect the bottom from wear and tear, this bag can be used day or night and in the rain or shine.
Another popular item in the line is the Professional Trauma Bag. Crafted from strong nylon and structural foam, this bag features YKK zippers, a durable bottom, and a low profile back. A low profile back and tuck away backpack harness make this bag easy to transport and use during a trauma. The trauma bag's multiple compartments makes it easy to organize items effectively. The bag has a front pocket with elastic loops and pouches, giving it extra storage capability. Non-slip shoulder straps also make for an easy to carry bag so professionals can focus more on the victim. To view a video of this bag, please click on: trauma bag professional video
The Large Trauma Bag features enough space for a large assortment of first aid supplies or equipment. Made from 600D polyester, this bag is extremely durable and offers tough, durable nylon straps. Two side compartments on each side of the bag make it easy to organize smaller items.
Another popular and spacious bag is the First Responder Trauma Bag. Also created from an extremely durable polyester material, this kit has numerous interior pockets and elastic loops to organize a variety of supplies and first aid items. Reflective white strips line the side pockets, strong nylon ropes clasp the top flap down so equipment and supplies can be secured tightly. This trauma bag is great for those who do not want a zipper top and want more room to customize their bag with large equipment.
The last of the top five items in this line from Lifeguard Master is the Ultimate EMS Backpack. Made from durable material, this EMS backpack comes with molded feet on the bottom for extra protection and handles so there are multiple ways to carry it. The EMS bag has reflective fabric lines on each side of the backpack so EMS professionals can be seen in the dark. The side two pockets, one of which comes with dividers and the other with side removable pouches, offer room for extra organization for any professional. Inside the main pocket of the trauma bag, there are three large utility pouches and one extra-large utility pouch that can be used to organize first aid essentials and equipment. The bottom of the bag also features a strap that is designed specifically to carry a D tank Cylinder so an EMS professional can always be prepared. Two front pockets also add room for extra storage and a transparent pocket on the front allows someone to carry their license, identification, or anything else that needs to be seen easily.
With this wide variety of EMS and trauma bags, Lifeguard Master has become a one-stop destination for emergency responder professionals. Both experienced and newer professionals find that Lifeguard Master carries quality and affordable equipment and bags that prove to be helpful and lifesaving.
Lifeguard Master has been in the emergency supply industry for many years. Sammy, the owner and founder of Lifeguard Master has been a lifeguard himself for 7 years. He knows what it takes to be an effective first responder and through the years has built a quality emergency supply store to accommodate for the anticipating needs of first responders around the country and around the world. Lifeguard Master's determination to excellence and rescue safety has quickly made it a leader in its industry. For more information, please give us a call, send us an e-mail or visit our website. Also to stay updated with the latest news in emergency supplies, please visit our emergency talk forum where lifeguards and first responders from around the country and world stay connect, and post the latest news at LifeguardsOnline.com.
Sammy
Lifeguard Master
(714) 605-3090
http://LifeguardMaster.com