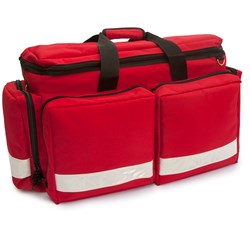 Perfect for EMT's.
New Orleans, LA (PRWEB) December 26, 2013
At Lifeguard Master, customers receive excellent products that are constantly evaluated with modern technology in mind and are offered at incredibly low prices. Now available at Lifeguard Master are quality created trauma bags, EMS bags, and EMT bags in a variety of sizes with the lifeguards and potential victims in mind.
At Lifeguard Master, customer service is a top priority which entails useful and lifesaving products that are affordable and made with the utmost quality. When purchasing from Lifeguard Master, emergency professionals and EMTs will find trauma bags delivered quickly as promised with many essential life-saving products and first aid tools needed for EMS professionals and first responders.
Professionals such as EMTs can easily use these bags when on the go and can be filled with supplies such as those offered in the first aid kits on Lifeguard Master.
One of the most exciting new items that is part of the new line is the Ultimate EMS Backpack. This backpack has two large front pockets and a lower pocket that feature elastic loops on the inside. An upper pocket comes with a zippered pouch on the outside. Two side pockets are also on the bag one with four standard size removable pouches. In the large compartment, there are three large utility pouches and one extra large utility pouch. The bottom has a strap that can hold a D Tank Cylinder. The bag also comes with molded feet on the bottom for extra protection and handles if the EMT wishes to carry the pack. For more information on this, please visit: http://www.lifeguardmaster.com/first-aid-kits-and-trauma-bags.
The Professional Trauma bag is extremely durable with dual-density structural foam and a strong nylon construction for a longer-lasting trauma bag. Multiple compartments offer optimum organization for any EMT that will accommodate the most modern supplies used by emergency professionals. The bag has a front pocket with elastic loops and pouches for easy organization. The bag also contains an external top pocket for easy reach, an internal pouch, non-slip shoulder straps with anatomically correct padding, and a tuck away backpack harness. This bag is also compatible with the mini-kits offered at Lifeguard Master. For a video on the professional trauma bag, please click on: http://www.youtube.com/watch?v=8pAwMqFR_mg.
The First Responder Trauma Bag is another anticipated item. Made of tough and durable polyester material, this bag is great for travel. Numerous pockets and elastic loops allows emergency professionals to easily organize materials. Compact enough to carry easily but big enough to fit what many emergency professional needs, this trauma bag is a perfect accessory to emergency first responders.
The Large Trauma Bag is another item that Lifeguard Master is excited to announce. This bag allows for a bit more supplies than the First Responder Trauma Bag and is more of a duffel style. There are an assortment of compartments allowing for easy organization and is made with 600D Polyester allowing for a durable and tough trauma bag.
Another highly anticipated item is the Ultra EMS Bag. This bag is bright red with reflective stripes on the front and sides. The bag has eight compartments and extra pockets with strapping to allow items to stay in place when on the go. There are additional pockets on each end of the bag for extra storage and two removable zippered pouches with transparent windows attached to the top flap with Velcro. Made of 600D durable nylon with reflective white stripes around the entire bag, this Ultra EMS Bag is great for those who quickly have to rush or run in an emergency. The bottom has feet to help protect it from the ground and comes with padded nylon handles with an adjustable shoulder strap for easy carrying. The bag is also easy to clean with water-resistant nylon and is sold at an affordable price. For more information, please go to: http://lifeguardshirt.com/catalog/i176.html.
Other items that are new to the line include the Oxygen Bag, the General Purpose First Aid Bag, the Medical Field Kit Bag, and the Intubation bag.
Lifeguard Master also offers pre-packed first aid kits, pre packed lifeguard fanny packs, trauma bags, oxygen bags, EMS backpacks, intubation bags, and many other extra essential first aid supplies. This new line offers a variety of supplies that can fit the needs of many different professionals.
The first aid kits can contain supplies such as a pocket CPR mask, an abdominal pad, adhesive bandages, antiseptic towelettes, hand cleaner, cold packs, compress bandages, disposable gloves, eye wash, eye pads, gauze bandages, first aid cream, antimicrobial wipes, rubber elastic bandages, safety pins, scissors, splinter forceps, splinter out, sting stop prep pads, tape, triangular bandages, and Waterjel cool gel.
Lifeguard Master has always had impressed customers due to the excellent customer service offered by the company. One customer says, "I have to let you know I'm amazed! I received my items the day after I ordered them off of the internet. Thank you so much for efficiency!"
For more information or to start shopping for EMS and EMT bags and first aid kits for emergency professionals, visit LifeguardMaster.com.
Lifeguard Master has been in the emergency and life saving industry for many years. Sammy, the owner and founder of Lifeguard Master has been a lifeguard himself for 7 years. He knows the importance have having all the equipment readily available for a first responder, and through the years has built a quality emergency supply store to accommodate for the anticipating needs of first responders around the country and around the world. Lifeguard Master's determination to excellence and rescue safety has quickly made it a leader in its industry. For more information, please give us a call, send us an e-mail or visit our website. Also to stay updated with the latest news in emergency supplies, please visit our forum where rescue professionals from around the country and world stay connect, and post the latest emergency news at LifeguardsOnline.com. One article EMT professionals my find useful is the CPR Pocket mask article, please click on: http://www.lifeguardmaster.com/lifeguardsonline/article.php?article_id=6&atricle_slug=what-to-look-for-when-selecting-a-good-cpr-pocket-mask.
Sammy
Lifeguard Master
(714) 605-3090
http://LifeguardMaster.com