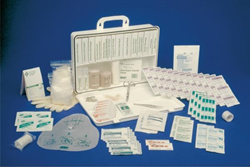 Perfect For a Swimming Pool
Los Angeles, CA (PRWEB) October 21, 2014
Pool first aid kits can be some of the most important tools a lifeguard keeps with them. In an emergency, this kit will be at the front line and what the lifeguard will grab first. Many items in a first aid kit are use to treat a victim in an emergency. Getting to the scene fast and this on the spot speed in treatment can prevent even more injury. When someone is in an environment where something can go wrong, which is nearly everywhere, it is important to have an emergency preparedness kit in case someone is hurt or injured. Lifeguard Master, a lifeguard emergency supply company, has recently upgraded their first aid kits and trauma bags to include a variety of additional items in the kits and bags that can potentially save a life one day.
Lifeguard Master offers several different types of pool first aid kits that can be useful in different environments. The following first aid kits are specifically made for lifeguards for public swimming pool emergencies. A 10-person first aid kit, 24-person first aid kit, 36-person kit, and a New Jersey kit are all available in a hard plastic case.
The larger person kits build upon one another offering more quantities of essential first aid kit items. These items include abdominal pads, adhesive bandages for different areas of the body, antiseptic towelettes, instant cold packs, disposable gloves, eye pads, first aid cream, gauze, hand cleansing towelettes, instruction card, rubber elastic bandage, safety pins, scissors, splinter forceps, sting stop prep pads, tape, and a triangular bandage.
The New Jersey First Aid Kit actually is specifically required by New Jersey law to be kept in all state pools. This kit is especially helpful to those living in the state of New Jersey who would like first aid kit that comes specifically with all the required materials.
The 36-person first aid kit is perfect for those in a large sized pool or commercial swimming pool environment. These ANSI approved kits contain a variety of items that will help in an emergency or even until an emergency response unit arrives at the location.
Lifeguard Master also offers a stuffed fanny pack, which is very convenient for lifeguard on duty. It is a mini first aid kit right on the hip of the lifeguard. It can also be useful for those who may need to carry a first aid kit around with them such as those hiking or camping on a trail. The stuffed fanny pack comes equipped with a CPR mask, antiseptic wipes, adhesive bandages, butterfly bandages, plastic bandages, gauze pads, sting relief pads, roll gauze tape, triangular bandage with pins, instant ice pack, and vinyl gloves. The pack is ready to use upon arrival and contains many critical first aid supplies.
The lifeguard supply company also carries a variety of trauma bags and EMS bags. Unlike the fanny pack or first aid kits, these bags are unstuffed and completely customizable to the user's needs. Many of these bags offer useful features such as reflective ribbon or paint, non-slip handles or shoulder straps, a variety of compartments to find items quickly and easily, and internal pouches. Many of these trauma bags are also made of water-resistant nylon, making them easy to clean and maintain.
With a variety of compartments, those looking for a detailed and superior emergency kit will have the option to organize items in sleeves or see-through compartments easily. This allows both professionally trained and generally trained people to find the items they need quickly in an emergency or trauma situation.
The three trauma bags Lifeguard Master offers are the first responder bag, the large trauma Bag, and the professional trauma bag. Each bag offers different needs for different people including different ways to organize items or the size of the bag.
No matter what someone needs, Lifeguard Master has an affordable option for lifesaving materials. Whether someone wants a pool first aid kit, or if someone is taking a group of children hiking, Lifeguard Master has an option for any size group or to fit any person's needs.
Lifeguard Master has been in the emergency and life saving industry for many years. Sammy, the owner and founder of Lifeguard Master, has been a lifeguard himself for seven years. He knows the importance have having all the equipment readily available for a first responder, and through the years, Lifeguard Master has become a robust lifeguard supply and lifeguard store company, accommodating the anticipating needs of first responders around the country and around the world. Lifeguard Masters determination to excellence and rescue safety has quickly made it a leader in its industry. For more information, please give us a call, send us an e-mail or visit our website. Also to stay updated with the latest news in emergency supplies, please visit our forum where rescue professionals from around the country and world stay connect and post the latest emergency news at LifeguardsOnline.com.
Sammy
Lifeguard Master
(714) 605-3090
http://LifeguardMaster.com