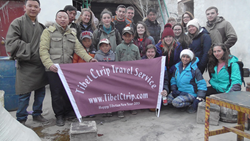 Compare the itinerary and detailed service items when booking a tour of Tibet in 2015 and 2016!
Lhasa, Tibet (PRWEB) March 04, 2015
For many travelers picking the right Tibet travel agency (http://www.tibetCtrip.com) is one of the most challenging parts of planning their tour. A quick Google search yields a seemingly endless list that makes it difficult to distinguish quality tour operators from those with questionable track records. Until recent years, popular travel review websites have had little in the way of reliable, objective, information on tour providers. Successful travelers often follow these guidelines when making their choice.

Explore the websites of companies that offer tours that match the groups' interest and needs. If everyone wants to do trekking, will they be able to provide equipment or will the group need to bring its own? If the group wants to do a biking tour, can the agency provide quality mountain bikes?
After getting an idea of the kind of the group's interests, start conversations with several agencies and note those that are the most attentive and prompt to reply. Service received during the planning process is often indicative of the experience the group will have once in Tibet. Are they willing to work within budget or be flexible in customizing itineraries?
Make sure the Tibet travel agent offers trustworthy payment terms. It's standard for a tour operator to request a deposit in advance then ask for the remaining amount to be paid at a later date. Often PayPal or similar services can be used for the deposit then travelers can pay the balance in cash upon arrival.
Choosing the right tour operator can easily make the difference between a frustrating lackluster experience and leaving Tibet awe-struck by its natural beauty and fascinating culture. Although the options may seem overwhelming at first, keeping these few simple guidelines in mind can help guide travelers to making the right decision for their tour. With the travel season right around the corner now is the time to start picking a Tibet travel agency!
Tibet Ctrip Travel Service (http://www.tibetctrip.com) announced this releases to share with overseas travelers.