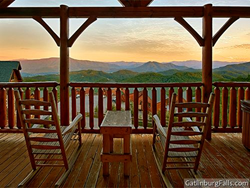 Gatlinburg, TN (PRWEB) September 29, 2016
Venture Resorts, Gatlinburg's largest cabin rental agency, has announced a Last Minute Travel Deal for the October 1 weekend. This weekend only, guests can save 50% all of the company's remaining rental cabins.
"October is a good time for a weekend getaway to the Smokies," says Billy Parris, general manager of Venture Resorts, "The weather is good, and you won't find large crowds at the national park."
With this weekend's discounts, Parris says families can have an affordable getaway.
At press time Venture Resorts had over 100 cabins available this weekend. This weekend's sale means that 1-bedroom cabins are available for as little as $128 per night, after discount. A 2-bedroom cabins are available for as little as $198 per night, after discount, and 3-bedroom cabins are renting for as little as $203 per night.
Parris notes that all rates are subject to availability. Prices for the rental cabins vary by cabin size, features, location. Guests can visit the company's web site to see rates for all available cabins, with the promotion discount applied at the time of booking.
Venture Resorts rents over 500 cabins within minutes of Gatlinburg, Pigeon Forge and the Great Smoky Mountains National Park. Cabins feature amenities such as home theaters, game rooms and gourmet kitchens, the company's cabins are a long way from the rustic cabins of yore.
"This isn't your granddaddy's log cabin," says Parris, "What we offer are really luxury log homes. You still get the porch with rocking chair and great views, but you also get the amenities you expect from a four-star resort."
About Venture Resorts
Venture Resorts is the largest luxury cabin rental agency in the Smoky Mountains, managing over 500 cabins within minutes of Great Smoky Mountain National Park and family-friendly attractions in Gatlinburg and Pigeon Forge, Tennessee.
For more information, call (866) 347-6659 or visit one of the company's web sites http://www.cabinsofthesmokymountains.com or http://www.cabinsofpigeonforge.com.