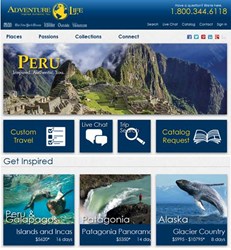 This new site works equally well no matter if using a home computer, tablet or smart phone.
Missoula, MT (PRWEB) August 08, 2013
Adventure Life, a leader in private journeys and expedition voyages, has launched a new mobile-friendly and photo-centric website. To celebrate, for the next six weeks Adventure Life is offering unprecedented discounts on select tours from the tropical warmth of Costa Rica to the wilds of Antarctica. To get inspired about your next adventure, visit http://www.adventure-life.com.
"We work hard to impress our customers with all aspects of our travel services and that includes the experience of planning their next adventure on our website," said company founder and CEO, Brian Morgan. "This new site works equally well no matter if using a home computer, tablet or smart phone, and we hope visitors enjoy the seamless experience and inspirational photos."
Kicking-off its new website, Adventure Life will be discounting a different trip each week, offering savings of up to 50% and thousands of dollars. Discounted trips will include Galapagos tours, Antarctica cruises, Patagonia hiking tours, Peru tours, Costa Rica family adventures, and Amazon tours. To find the latest discount, Google the name of the tour listed above plus 'Adventure Life' each week through September, or subscribe to the Adventure Life e-newsletter.
Morgan continued, "Some travelers are inspired by photos, some by the stories of others. Some know they want to go on a Peru tour, for instance, but don't know what they want to do there. Some want a luxury cruise, family travel to Central America, or active vacation ideas, but don't know where to go. Our new website allows each visitor to quickly find the information they want based upon the criteria that are most important to them individually."
About Adventure Life:
Adventure Life is a company of travelers with a passion for sharing the world with others. Our travel experience runs deep, from years volunteering in rural Africa and Central America, to research trips in Asia, studying in Europe, guiding in the Rockies, and just bouncing around every corner of the world. This deep experience is the reason behind our pioneering approach to travel and award winning itineraries. For nearly fifteen years we have been creating personal itineraries that immerse our travelers in the vibrant colors of a place, leaving both our guests and hosts enriched by the experience. From our beginnings as a Latin America specialist, we now offer private journeys, small group tours, and expedition voyages throughout the world. We pride ourselves on our intimate knowledge of our destinations and our dedication to sharing the world.